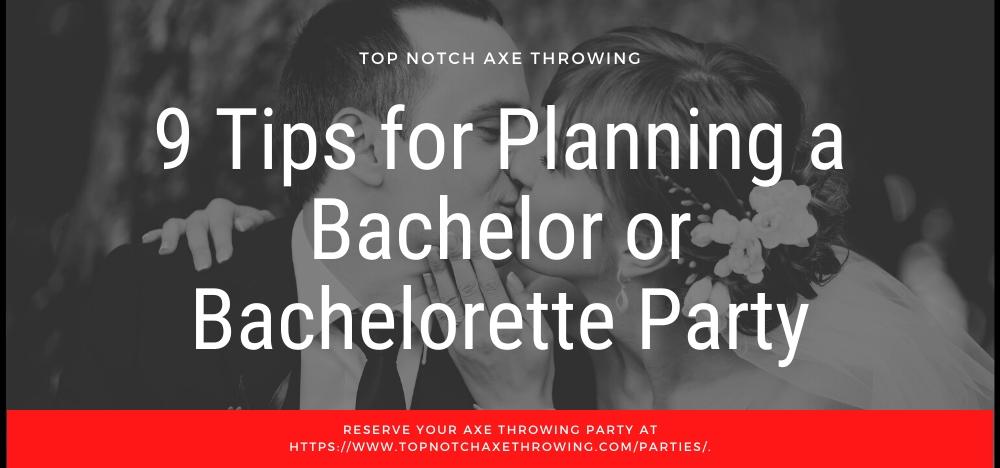 9 Tips for Planning a Bachelor or Bachelorette Party
July 8, 2020, by:
Top Notch Axe Throwing
Are you wondering, how do I plan a bachelor party or bachelorette party? We've scoured the best resources to find nine tips for planning your next party.
First, it's essential to remember weddings are a time to celebrate the love between two people and family and friends. It's a tradition in the St. Louis area to get together with a small, close group of friends for a bachelor party, bachelorette party, or combined "we're getting married" party. Finding something fun for everyone to do together can be easy if you follow the tips below.
 9 Tips for Planning a Bachelor Party or Bachelorette Party
Make It Personal - Ask the bride or groom what they would like to do for their party. Everyone has personal interests and preferences for how they like to spend their time. Unless your friend says, "surprise me," plan the party together. Then you can add personal touches to the party.
Invite the Right Group - This is another conversation to have with the "person of honor." Ask, who do you want at your party? Some people love hanging out with 20 or 30 people at a time. Other people prefer small groups. Keep it simple, and don't overthink the party invite list.
Make it Affordable for Everyone - Not everyone has an extra $500 to spend on a night out. Some people might think a $50 night out is expensive. Keep this in mind as you're planning. It's typical for the maid of honor or best man to coordinate the bachelor and bachelorette parties. But everyone should contribute money, so the bride or groom gets just to have fun. Talk with invitees to see what budget might make sense.
Stick to a Budget - In reality, if you had an unlimited budget, then you would probably do a bunch of activities in a few far-flung places around the world. But, most people don't have unlimited budgets (or time off from work). Again, this is a group activity. Ask people to chip in some money to cover the expenses of the person of honor and keep it affordable for everyone.
Ask for Help - If you're the maid of honor or best man, ask the other people in the wedding party to help you plan and coordinate the party. Being in the wedding party is both an honor and responsibility. Stay focused on the bride and groom, and work together. You're, collectively, going to create a memorable experience.
Pick Activities that Work for Everyone - Choose activities or an activity that works for everyone. Not all women love spa days, getting their hair done or pub crawls. Not all men like the same activities either. When you ask for help from invitees, ask what activities they enjoy, and discuss the list for the bride or groom. Axe throwing at Top Notch is an activity that most people enjoy:)
Safety First - Any time a group of people gets together to drink, things can get out of hand. Think ahead. Rent a limo or party bus, order an Uber, if you're going to be drinking, and have multiple stops on your party itinerary. Ask someone's mom or dad to be a backup driver if someone overdoes it. If the party is the night before the wedding, have a plan for breakfast, lots of water and Advil on hand.
Capture the Moment - Plan to take at least one ideal group shot. Something that everyone can be proud to share after the party. Bachelor and bachelorette parties are supposed to be bonding experiences. Not everyone will want their photo taken all the time. Having a plan for one great photo opt will take the pressure off of everyone to "capture the moment." Plus, throwing the picture in a frame for the person of honor makes for the perfect gift. An alternative is to create a hashtag and share some photos from the night on your favorite social media platform.
Be Grateful - At the end of the party (or night), remember to thank everyone for participating and for their contribution to making it a fantastic memory for everyone. Gift bags or unique individualized gifts for everyone in the wedding party is a lovely gesture by a maid of honor or best man. And, don't forget to toast the bride or groom for making an outstanding commitment to their love. They're your friend, show them some unconditional love and your gratitude!
Bonus Party Ideas
If you have either a bachelor or bachelorette party, incorporate the groom or bride at some point in the festivities. Just a quick drop in to say, "hi, I love you, hope everyone's having a great time," can be a fantastic surprise.
Coordinate outfits with everyone in the group. Etsy is home to anything and everything you need. Wearing the same color shirt can be especially helpful if you're on a pub crawl experience with a larger group. (Oh, we sell Top Notch Axe Throwing t-shirts that are super comfy.)
Decorations can make an overnight stay special. Buying a bunch of the bride's favorite flowers and having them around the hotel suite or rental home will be noticed as an impressive gesture. Or choosing something that can be used at the wedding ceremony or given as gifts to everyone in the group can be fun too.
Finally, Top Notch Axe Throwing is a regular location for bachelor and bachelorette parties. We love setting aside axe throwing lanes for parties so you can have the best possible experience. As a bonus, the bride or groom throws axes for free.