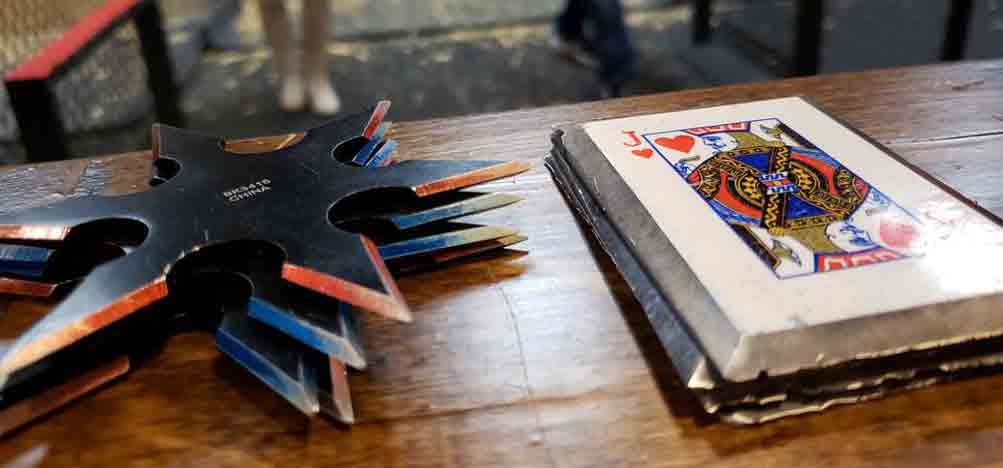 More Than Axe Throwing – How to Throw Ninja Stars and Throwing Cards
May 13, 2019, by:
Top Notch Axe Throwing
We know axe throwing is all the rage but ninja stars and throwing stars are fun to throw too. In our constant effort to stay "top notch," we've introduced ninja stars and throwing cards to our line-up of fun things to throw. This addition has led to plenty of fun...and questions. So we thought a nice round-up of FAQs was needed.
What is a ninja star?
Ninja stars can also be called Shuriken. Shuriken is the name for a weapon used in Ninjutsu. Wikipedia defines this martial art as, "Ninjutsu, sometimes used interchangeably with the modern term ninpō, is the strategy and tactics of unconventional warfare, guerrilla warfare, and espionage purportedly practiced by the ninja."
If you're a fan of Chinese action movies then you've seen people fighting with swords, often followed up with a few shurikens flying through the air. When shuriken are thrown for fun, they are typically called ninja stars.
Shaped like a star with 4 - 8 (or even more) points, the ninja star is fun and easy to throw. The weight of the star scan vary. If you really get into throwing ninja stars you can play around with the number of points and the weight of the star.
Ninja Star FAQ
Can I bring my own ninja stars?
For safety purposes, we have standard ninja stars that we provide and allow everyone to throw while at Top Notch.
How do I throw a ninja star?
You can throw ninja stars vertically or horizontally. If you want to try a vertical throw, we recommend gripping one of the points. You should place your thumb on one side and your pointer finger knuckle on the other side. Once you are comfortable with your grip, you simply step and throw. A horizontal throw is similar to throwing a frisbee. We don't recommend this way because too many things can wrong and we want everyone to stay safe.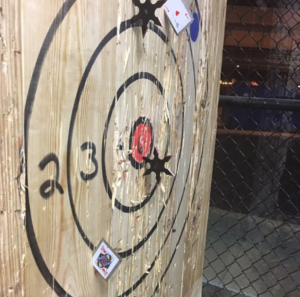 What are throwing cards?
Let's start with a little history. In the early 1800s, magicians started throwing regular playing cards with extreme force and accuracy. This was a skill and magic trick known as "the art of card throwing." Competitions were held all over the place as special entertainment events. Some magicians still practice this art.
Fast forward to today, X-men fans are inspired by Gambit whizzing playing cards every which way. Surprise, his superpower allows him to do this. But we have something fun too.
We have throwing cards. Throwing cards are about the same size as regular playing cards. They are based on the magical skill of card throwing but are much easier to throw. Modern-day throwing cards often have the face of the card on one side but they are almost always blank on the other side. They are made from stainless steel and have razor sharp edges.
We leave the magic up to the magicians and stick with the stainless steel throwing cards at Top Notch.
Throwing Card FAQ
Can I bring my own throwing cards?
For safety purposes, we have throwing cards that we provide and allow everyone to throw while at Top Notch.
How do I throw cards?
To throw a card, you carefully grip the short side of the card between your thumb and pointer finger knuckle. Then you step and throw in a vertical action. The motion is similar to throwing an axe overhead but you are only using one arm and you look like you're doing "a karate chop."
Stop in Top Notch Axe Throwing to try your hand at throwing cards and ninja stars. We recommend booking online with your friends and family so you have a reserved lane for your group. Don't forget, we're BYOB and located in St. Louis and St. Charles.