AXE THROWING PARTIES
---
We're #1 for Fun Activities & Games for Axe Throwing!

A unique party venue in St. Louis, St. Charles, MO, or Round Rock, TX.
We host parties for corporate groups, birthdays, graduations, bachelors/bachelorettes and other celebrations.
Ages 8+
Safe and fun for guests 8 years old and up
Groups with guests under 18 mast have an adult present at the axe throwing lane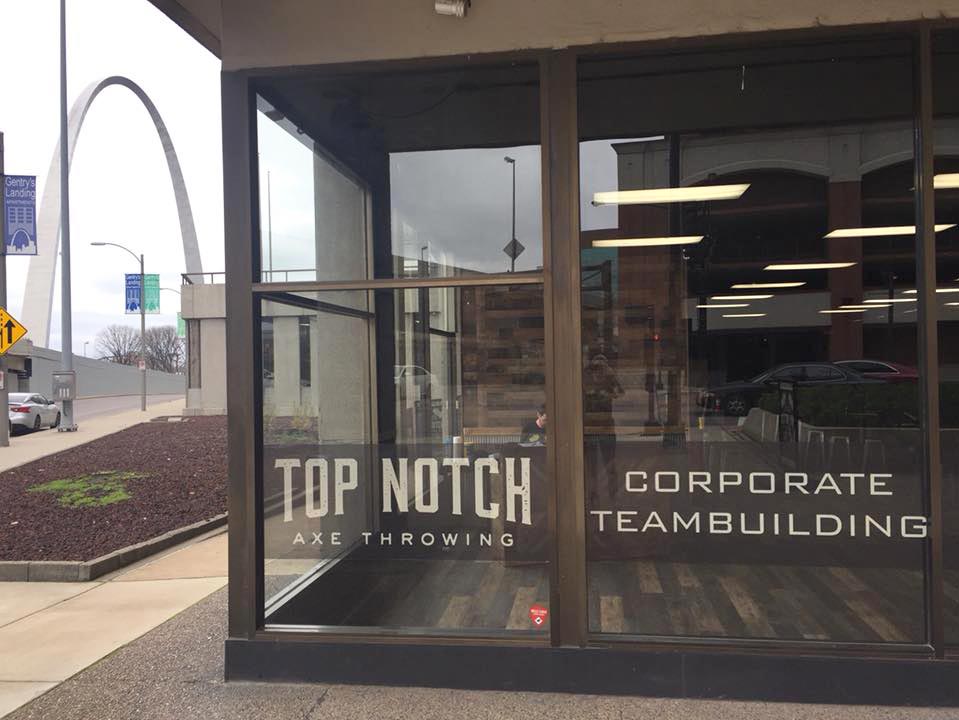 Top Notch Axe Throwing downtown STL is a short walk from the many great bars, restaurants and attractions.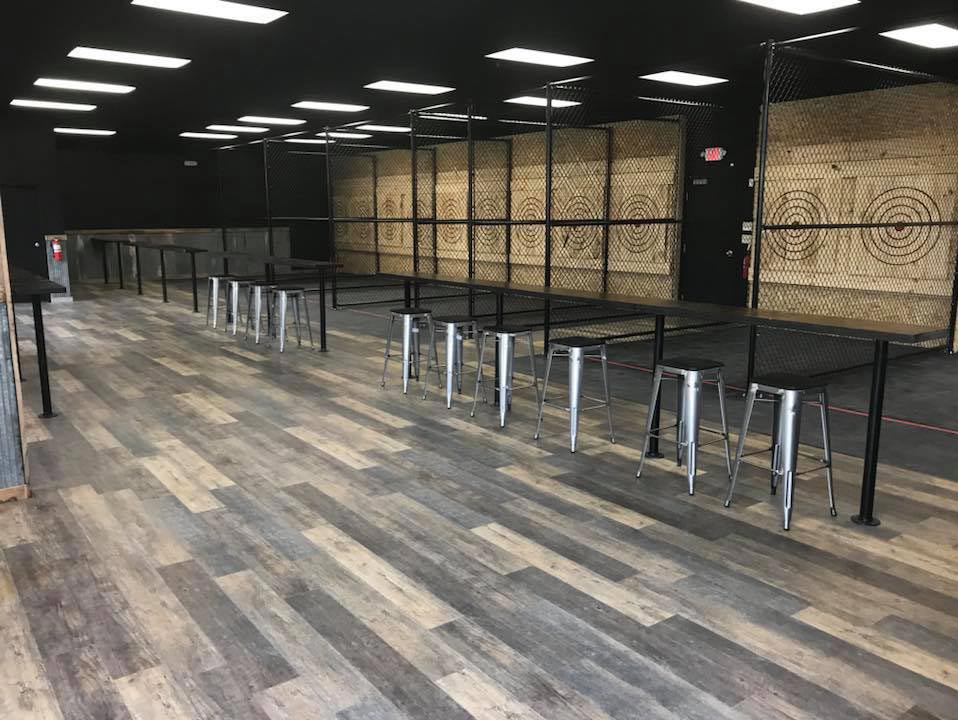 We host parties for corporate groups, birthdays, graduations, bachelors/bachelorettes and more.
Schedule Your Axe Throwing Party Today!
Parties at Top Notch are Fun & Easy to Plan.
What You Need to Know:
---
Group Sizes
Groups of 23 people or less are considered small groups. Book your small group party now.
Groups of 24+ people are considered large groups. To reserve your Large Group Party contact us about your event.
We're an ideal company party venue. We also offer a private rental of our entire facility for large groups.
---
Axe Throwing Lanes
We recommend 6-12 people per lane (2 targets). If you want a throwing lane designated for your group, you need to make a reservation for 6 or more people.
Party groups can reserve multiple lanes.
---
Cost
The cost for axe throwing is $35 for 1.5 hours per person.
Only people with paid reservations are allowed in Top Notch.
---
Small Group Promo*
Is it your birthday? As the birthday person, you get to throw for free when 3 or more of your friends book online for a birthday party. See our birthday policy for details.
Are you honoring someone with a small group celebration? The bachelor, bachelorette, recent grad, or "person of honor" throws for free with a group of 4+.
*The small group "throws for free" promo cannot be combined with any other offer at any time.
---
BYOB Party Venue
We are BYOB at all location. Feel free to bring your own beer or wine. Bring your own cups/bottle opener. No hard alcohol. You may also BYOB food. Our Round Rock location also sells alcohol, here's the drink list.
---
Catering is Available
We have catering. Our recommended caterer in MO is Callier's Catering. They are at Top Notch multiple times a week for events. Contact us for details or call Callier's directly at 636-230-0019. Alternatively, you may bring your own food or use a different caterer. You must clean up.
View our Round Rock, TX catering menu.
You can bring in a celebration cake or cupcakes. Snacks such as pretzels, nuts, and cookies are allowable as well. We sell non-alcoholic drinks on site in MO and both non-alcoholic and alcohoic drinks in Round Rock.
---
Ages 8+
Children under the age of 8 are not allowed to throw axes.
Due to the nature of axe throwing, kids age 17 and under must have an adult present at the axe throwing lane. We highly recommend 1 adult per 3 children and 1 adult per small group of teenagers.
Please keep in mind, axe throwing requires good coordination and concentration skills to be successful.
Schedule Your Axe Throwing Party Today!
The best time ever
"I went for my buddies bachelor party for a starting place. It turned out to be one of the funnest places I've ever been too. The staff is awesome!"
- Jeff W
Never thought I could have this much fun chucking an ax!
"We were in St .Louis for a girls weekend and stumbled upon this place. We had a blast! Great staff, great instruction, and great fun. I highly recommend it for all levels from novice ax handler to lumberjack."
- Angela S
Great Time
"Went here with a large group of people and had an amazing time! Great staff, very clean and well run, great instruction, and loads of fun. I highly recommend checking them out."
- Joshua C
So Freaking Fun!
"I went with a group of ladies to Top Notch for a bachelorette party. It was infinitely more fun than I thought even possible! I wasn't really sure what to expect, but we had a blast. Axe Masters were super helpful and friendly."
- Samantha B

---
We welcome parties and groups at Top Notch. We're ready for your next company party, corporate team building event, date night, birthday party or gathering with friends and family. Our axe throwing facilities include flexible spaces ready to accommodate small and large groups. Axe throwing is a fun and unique group activity for everyone ages 8+.
Top Notch Axe Throwing facilities are unique because we are BYOB. You can bring your own beer, wine and other drinks. Plus, we offer catering at all locations. Here is our catering menu for our MO locations. Here is our catering menu for our Round Rock location. We also sell alcohol at our Round Rock location. You must clean up any and all food and drinks that you bring into our facilities. Finally, in addition to axe throwing, we have ninja stars and throwing cards to throw.
Parties reservations are for 1.5 hours. During this time you'll have an Axe Expert who will walk you through how axe throwing works. The most popular times for parties are weekends, before/after events downtown and holidays. But we're ready for all celebrations.
Reservation times do fill up fast, so don't forget to book your axe throwing event today. Reservations are the only way to guarantee your party spot. When you make a reservation, you'll have dedicated axe throwing lanes for your party.
We'll make your group event fun and stress-free. If you have special requests or would like any more information, please contact us via phone at 314-885-1242 or via email at info@topnotchaxe.com.