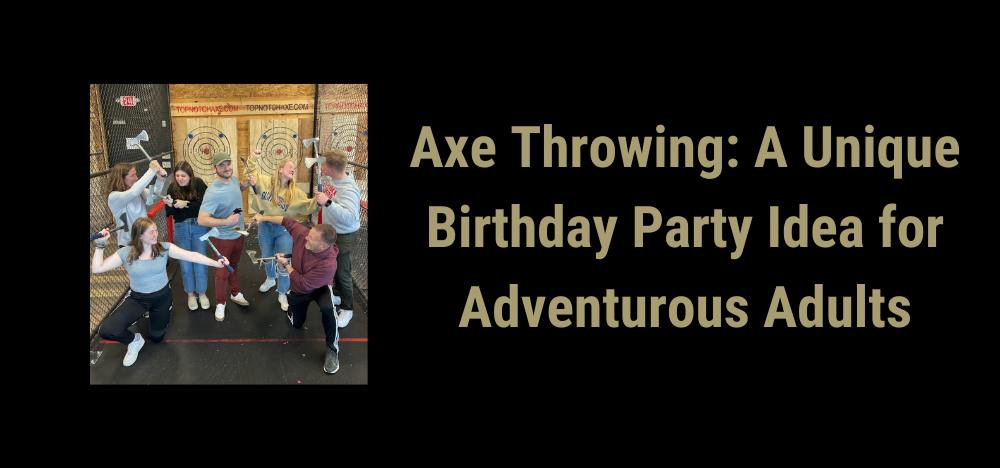 Axe Throwing: A Unique Birthday Party Idea for Adventurous Adults
September 18, 2023, by:
Top Notch Axe Throwing
Are you tired of doing the same old thing for birthday parties? Are you looking for a fun and unique way to celebrate with your friends and family? Look no further than axe throwing! Not just for lumberjacks, this thrilling activity is the perfect way to celebrate for any adventurous adult (or teenager).
Why Choose Axe Throwing for a Unique Birthday Party?
Axe throwing is a great way to celebrate a birthday party because it's something out of the ordinary. It's not your typical dinner and drinks, and it's sure to create a memorable experience for you and your friends. You'll also get some exercise while having fun, which is always a plus!
3 Steps to Book an Axe-Throwing Birthday Party
Book three or more people online to reserve a spot for the party. When you book 4 or more people, the birthday person throws for free. DO NOT BOOK THE BIRTHDAY PERSON ONLINE. At a minimum, you need four people for a birthday party, including the birthday person, to qualify for this promotion. 
Note it's a birthday party in the note section when you book*. The party must be within four days of the birthday for the birthday person to throw for free.
The birthday person must show ID before throwing axes.
*If group members are booking online individually, each person should add the birthday person's name and the words 'birthday party' to the comment section when booking.
Birthday Person Throws for Free!
If it's your birthday, you can throw axes at Top Notch for free with a group reservation of 4+ people within four days of your birthday. At a minimum, the group must have three paying customers. When three people are booked online, then the 4th person, aka the birthday person, can throw for free. Additionally, the birthday person must show their state-issued ID (or equivalent) with your birthday on it when you arrive at Top Notch. The group must book online ahead of time and note it's for a birthday party. Other discounts cannot be included for birthday parties.
What Should You Wear for an Axe-Throwing Birthday Party?
When throwing an axe, wearing closed-toe shoes and comfortable clothin is important. Layers are a good idea because most axe-throwing facilities are indoors and can get warm with all the activity. You may also want to bring a sweatband or hair tie if you have long hair.
In conclusion, axe throwing is a unique, thrilling, and fun activity that's perfect for adults and teenagers looking for a new way to celebrate a birthday party. You'll get your heart racing, bond with friends, and create lasting memories. So why settle for a boring dinner or party when you can throw some axes instead? Book your axe-throwing birthday party today and prepare for an adventure you won't forget!
Top Notch Axe Throwing is MORE Than Axe Throwing
Axe throwing might be in our name at Top Notch, but we're more than axe throwing with ninja stars and throwing cards. Plus, additional extras to make sure you have a good time.
About Top Notch Axe Throwing
Top Notch Axe Throwing is rated #1 by customers on Google and TripAdvisor. There are three Top Notch Axe Throwing venues, including downtown St. Louis, St. Charles, MO, plus Round Rock, TX. Book axe throwing in MO or TX now. Have fun throwing axes!