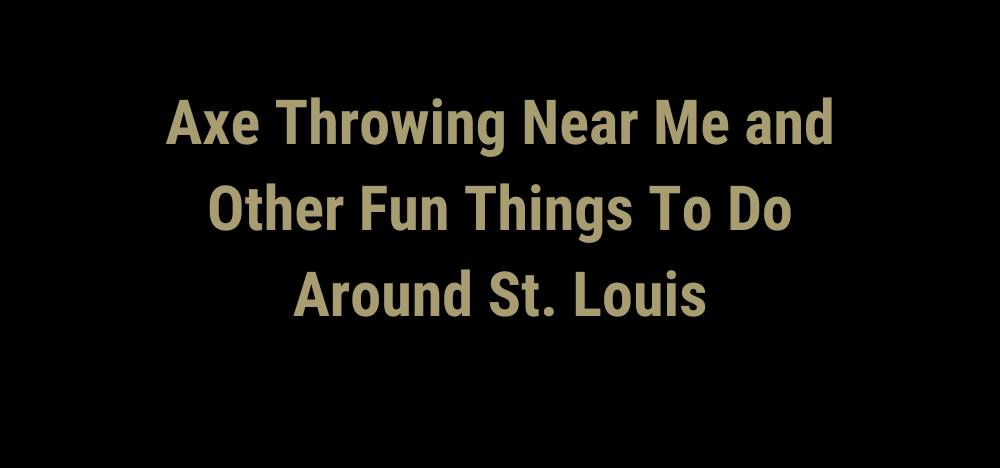 Axe Throwing Near Me and Other Fun Things To Do Around St. Louis
July 27, 2023, by:
Top Notch Axe Throwing
Axe throwing is the perfect indoor activity any time of the year. Top Notch Axe Throwing has multiple five-star rated locations, including downtown St. Louis, St. Charles, and Round Rock, TX. Owned and operated by brothers living in two cities, Top Notch is a down-to-earth and fun place to throw axes. We are BYOB and offer drinks on-site in Round Rock. Plus, we have ninja stars and playing cards for throwing in addition to the hatchets we supply.
Axe Throwing Is Near You, Year Round
We're open year-round. Our busiest times are in the evening and on weekends. We recommend booking online to reserve your spot. The cost is $35/ person for 1.5 hours (as of the posting of this article). This is the cheapest axe throwing in downtown STL, and it's the going rate in Texas.
You can throw axes at any time for any reason. A night out, date night, celebrating a life milestone, birthdays, work parties, and holiday parties are all reasons to throw axes. Our customers love us and have this to say about their experience at Top Notch:
"We had a blast! The amount of time you get is the best compared to other places! Matthias (Axe Master) was great at explaining and being supportive. He also offered great advice after watching a couple of throws. The ninja stars and throwing cards were so much fun too! We will definitely be returning! Thank you Matthias!" - Caylin (Google, Round Rock)

"First time here and not the last. It was a blast between axes, darts, and throwing cards. Matthias was very helpful in getting us set up and helping is when needed it. He really made the experience phenomenal!! 10/10 great way to spend time with family and friends." - Tiffany (Google, Round Rock)

"What a great time. Whole family had such a wonderful time. We threw axes, stars, cards. Staff was great! You can bring your own beer in! We would do it again anytime. If you are in the area make sure you take a few hours and check it out! Short walk from the Arch.. . Thanks for a great time!" - Glen (Google, STL)

"Awesome time. We were definitely not disappointed. Once we had time to practice our throwing techniques, we were introduced to different games to take the activity to another level. Kenny made our first time axe throwing an AMAZING experience. Very personable, helpful, and overall seemed to enjoy what he does and the city of St. Louis. 10 out of 10 Recommend." - Yolanda (Google, STL)

"Great employees, great facilities, great time! We had a birthday party here and it was very easy to book and we had a blast. They do a great job of breaking up the time with introducing activities so that you stay challenged and have a good time." - Sarah (Google St. Charles)

"The place was a cut above the competition LOCATION: Very clean location. They keep the tables and floors clean and replace the boards pretty frequently from what I saw. STAFF: When I went there we were helped by Jay. He really made it a great experience. Helpful and friendly. And he got a bullseye during the demo. MISC: They also have throwing stars and cards. A fun perk I wasn't expecting." - Yaseen (Google St. Charles)
Book Now at any of our locations.
Other Fun Things To Do Around St. Louis
As small business owners that live where we work, we have the inside scoop on what's fun to do around town. Our St. Louis (downtown) location is a 35-minute drive from our St. Charles suburban location. Here's our round-up for the St. Louis area:
Downtown St. Louis Things To Do Before & After Axe Throwing
Well, we're across from the Arch. We could end it there, but that's so much more to our little neighborhood worth mentioning. We're within a 10-minute walk from the convention center complex and many hotels. Everything at Union Station is also a short walk away. Plus, there are so many restaurants that we can't even begin to cover all our favorites. Our downtown STL location is easy to get to, and you can enjoy the entire night out and about in STL.
St. Charles Things To Do Before & After Axe Throwing
Our St. Charles location is conveniently located near shopping plazas, schools, community sports fields, and local hospitals. In the same plaza as us is The Rack House Kitchen Wine Whiskey. It was named one of the best whiskey bars in the U.S. in 2022 by Whiskey Advocate. The made-from-scratch and seasonal menu will keep you fueled before and after axe throwing. Known for their margaritas, Salty's Fresh Mex is across the parking lot from Top Notch. We recommend checking them out for a yummy Mexican feast. Don't forget that you can get take-out and bring it into Top Notch with you. We ask that you clean up after yourself and/or your group. And we're BYOB, so grab your favorite 6 pack and bring it with you.
Finally, this location is really in the middle of it all. Walmart, Home Depot, Panera, Jimmy John's, and Chick-fil-A are all nearby, along with a host of other stores and plazas.