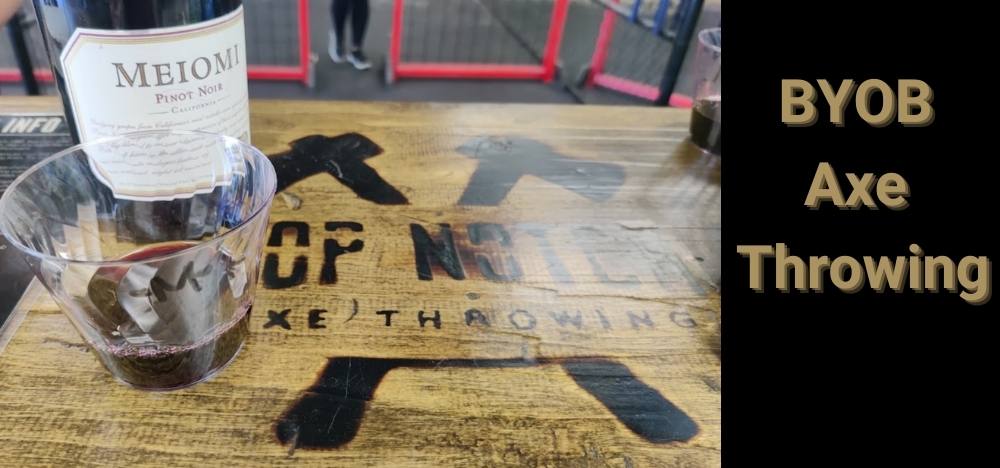 BYOB Axe Throwing
September 29, 2022, by:
Top Notch Axe Throwing
All Top Notch Axe Throwing locations are BYOB. We recommend bringing your favorite local beer or wine. Cans and plastic cups are ideal for drinking too. We've compiled our favorite places to grab a six-pack or bottle and throw axes at any Top Notch location. Finally, if you forget to BYOB, don't worry; we've covered you in Round Rock with beer on-site.
St. Louis Favorite Breweries
4 Hands Brewing Co
Axe throwing, baseball, and beer combine for the perfect day in downtown St. Louis. Please park your car and make a day of it...the perfect day. We like 4 Hands Brewing because they're our neighborhood bar that happens to have a terrific collection of seasonals, so we're never bored. We recommend them because everyone can find something they like, even large groups with various tastes. Just grab a six-pack!
Square One Brewing & Distillery
Mead and axe throwing go together; they do. And you can pick up some mead at Square One Brewing. This place makes excellent beer and distills a variety of hand-crafted spirits. Don't forget to throw axes first, as we don't allow hard liquor, but we love our neighbors.
Exit 6 Brewery
Exit 6 Brewery is our neighbor in Cottleville. If you want to cut down on driving down, pull into the parking log, grab a six-pack, and head over to us, we'll be ready for you. The owners are "beer guys." They love beer, so everything they make tastes good to us. If you catch an Axe Master at the bar, feel free to say hi!
Round Rock Favorite Breweries
Karbach Brewing
You might find us at Karbach's Biergarten when we're not throwing axes. We do take the day off sometimes. We love to tune into the Love Street vibes, and with all the choices, who doesn't?
Live Oak Brewery Co
Live Oak Hefeweizen, I mean, do we need to say more? People come from all over the world for this beer; lucky for us, we're in TX, and it's only distributed in TX. Bonus - we have this beer on tap at Top Notch! We also like their smoke beers.
Independence Brewing Co
Toasted malt, hops, and caramel blend together to make the perfect amber at Independence Brewing. We drink the Austin Amber regularly when throwing axes. But the amber isn't all they have. The variety of beer at Independence is wide, and we recommend tasting all of them.
Pinthouse
Obsessed with hops, the team at Pinthouse delivers some of the best IPAs in the world. Some of them are award-winning, so it's not just us that love them. Kudos on your innovative hoppiness year after year, Pinthouse.
About Top Notch Axe Throwing
Top Notch Axe Throwing is rated #1 by customers on Google and TripAdvisor. There are four Top Notch Axe Throwing venues, including downtown St. Louis, St. Charles, Ballwin, MO, plus Round Rock, TX. We host small groups of friends, families, and visitors. Plus, we have a corporate team-building option for large groups, complete with catering at our MO locations. Book axe throwing in MO or TX now. Don't forget you can BYOB!