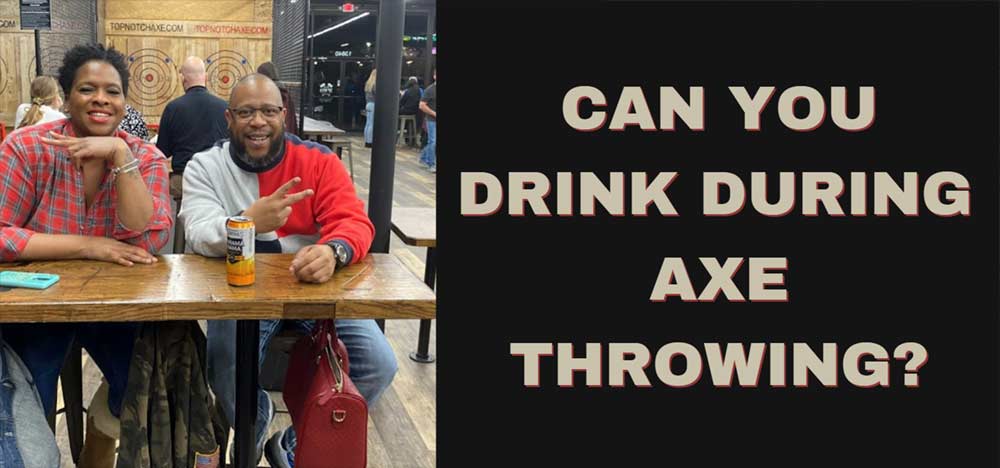 Can You Drink During Axe Throwing?
May 11, 2022, by:
Top Notch Axe Throwing
Top Notch Axe Throwing is a full-service axe throwing facility complete with drinks available on site, or if they're not available at a location, you can bring your own beer (BYOB). Our Round Rock, TX location has a drink menu, and all three of our Missouri locations are BYOB.
If you're wondering if you can drink during axe throwing - yes, you can! Our only rule is that you can't drink hard alcohol and keep it to a drink or two so you and everyone around you can enjoy our family-friendly environment. First, we are an axe throwing venue, second, we allow drinking.
It's essential to go through safety training when you first throw axes at all of our locations. This training will ensure you have fun and don't hurt yourself or anyone else while you're throwing axes. There are axe throwing game options, plus we have ninja stars and throwing cards. We have safety protocols in place to ensure everyone has a good time.
Axe Throwing Safety
There are several safety protocols in place while throwing axes, including if you are drinking. Here are a few highlights that we often get 'thumbs up' for at Top Notch:
Safety Briefing - We have a safety briefing to help everyone stay safe. You'll also learn how to throw axes properly.
Waiver - We require everyone to sign a waiver for insurance and personal responsibility reasons.
Designated Throwing Lanes - Each group is assigned a lane or lanes.
Fencing/Partitions - Throwing lanes have fencing separating your lane from other lanes. Groups often have multiple lanes and we stress not throwing at the same time and taking turns.
Red lines - There are red lines on the floor for you to throw from and not pass for safety reasons.
Beware of Going Beyond the Red Line - Never go beyond the red line to the target when someone else around you is throwing an axe. Our Axe Masters strictly enforce this rule.
Stumps - Stumps are the resting spots for your axe.
Axes Are Provided - We provide axes and keep them highly functional. No, you can't bring your own axe.
Closed Toed Shoes - You must wear closed-toed shoes while throwing axes. Wearing loose-fitting clothing is recommended, so you have total flexibility to throw.
General Supervision - Our Axe Masters are primarily there to help you throw axes, but they also monitor everyone's safety.
Axe Throwing First - First and foremost we are an axe throwing facility.
Corporate Team Building & Groups
We have catering options if you have an axe throwing party or team building event. Our catering options have alcoholic bar options and food options. The menus are unique to the location. We have a catering partner and on-site drink menu available in Round Rock. We have a catering menu with alcoholic and non-alcoholic bar options at our MO locations.
We can serve groups of 25 - 85 at all locations, and our Ballwin location can serve up groups of up to 110. If you're interested in a private group experience, please get in touch with us even on a day we're closed. We can often accommodate groups when we plan with you.
Can You Drink During Axe Throwing
As you can see, we have everything in place for you to have a safe and terrific time throwing axes and enjoying a couple of drinks with your friends and family. Yes, you can drink during axe throwing. Our axe throwing facilities have been around for a while now, and we're proud to be part of a safe and exciting industry. Please help us keep our 100% safe facilities track record by doing your part while enjoying axe throwing. If you have any questions, please feel free to contact us.
About Top Notch Axe Throwing
Top Notch Axe Throwing is rated #1 by customers on Google and Tripadvisor. There are four Top Notch Axe Throwing venues, including downtown St. Louis, St. Charles, Ballwin, MO, plus Round Rock, TX. We host small groups of friends, families, and visitors. Plus, we have a corporate team building option for large groups, complete with catering at our MO locations. Book axe throwing in MO or TX now.