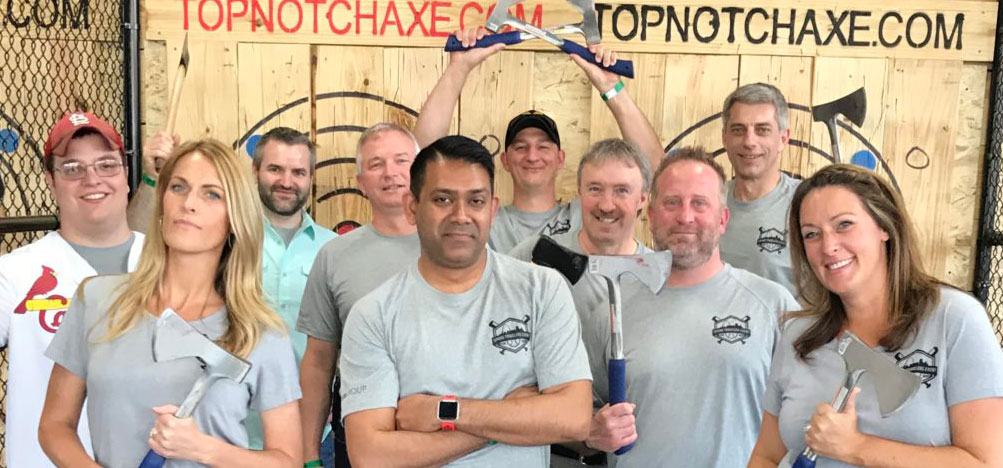 Company Party Venue for Groups Who Love Fun in St. Louis & St. Charles
April 16, 2019, by:
Top Notch Axe Throwing
Company parties don't have to be boring and impersonal events where you just stand around. Imagine hosting or attending a company party where you get to have fun...so much fun that you remember the party for many years to come.
Top Notch Axe Throwing has two company party venues, one in downtown St. Louis and another in St. Charles. We offer venues where you and your group can have an interactive and memorable party experience. Plus...throwing axes? Come on! That's an unexpected wow-factor that is sure to delight.
Is this a Good Company Party Venue for
My
Group?
Top Notch is the right place for many groups. We're the ideal company party venue for groups who like:
Interactive activities

Trying new things and tackling challenges together

Making memories together
Interactive Company Party
If your group prefers a fun and interactive company party then Top Notch Axe Throwing is a good spot for you. Sure, you can go wander around an art museum or some other cool place. We enjoy architecture and art as much as the next person. But what WE LOVE is a little physical activity that challenges us just enough that it leaves us wanting a little more fun.
How Axe Throwing Works & What to Expect
Upon entering Top Notch, you will see a clean open space with lots of wood. There are plenty of targets and axes to go around! Protective barriers made of chain link fencing divide targets into throwing lanes.  
When your group holds your company party at Top Notch, you'll be split up between multiple axe throwing lanes. Everyone will get ample opportunities to throw over a 90 minute period.
Friendly competitions can occur between lanes or across your entire group. We have directions and everything you need to play standard axe throwing games. An Axe Master will be on hand to teach you to throw and give tips. Our Masters also have game information, ninja stars and throwing cards.
Try Something New - Axe Throwing
Axe throwing is a major phenomenon across the nation. It's on everyone's radar as the hot new activity to try. Chances are most of your team members haven't tried it yet but they want to.
In the past couple of years, the sport of axe throwing has blown up around the US. National axe throwing organizations estimate millions of people have thrown axes and throwing leagues are trending as a leading leisure activity in communities ranging from Boston to LA.
Axe throwing moved into the St. Louis area in 2018. Top Notch was the first axe bar to open downtown. By throwing a company party, everyone on your team will get to try something new and cross axe throwing off their bucket list.
Host a Memorable Company Party
Finally, company parties are a terrific opportunity to make memories together. Most people are busy every waking hour. It can be difficult to remember everything you've accomplished let alone try something new. In today's busy environment, things run altogether and memories get blurry.
Axe throwing is a memorable group activity. It's fun, unique and requires concentration. Everyone has multiple opportunities to hit the bull's eye while conversing with teammates. Whether it's learning that your teammate is a camping fanatic or it turns out the Director of IT is the best axe throwing in town, you're sure to create memories together at Top Notch.
The Axeual Company Party Logistics
Top Notch Axe Throwing is the perfect company venue for most groups. We have experience hosting a wide array of people with varying abilities, ages and arm strength. Regardless of age or fitness ability, you and your colleagues can throw an axe. Plus, you'll have an Axe Master (or 2 or 3) to help you and everyone in attendance learn to throw correctly.
Here are some important details to know about both Top Notch Axe Throwing company venues:
We have locations in St. Louis and St. Charles

Our downtown location is across the street from the Gateway Arch

We're BYOB but have water and soda for sale

Catering is available at our downtown location

Priced right for groups

We can handle 70+ people at one time

Private company parties of 50+ people can be hosted during our "off hours"

Ninja stars and throwing cards can be thrown

We're flexible business owners, call us to make reservations or  if you have any questions
When you're ready to book a company party venue that is going to result in plenty of pre-party buzz and lasting memories for years to come, call us. We look forward to providing you with the venue where everyone can try something new and have fun.