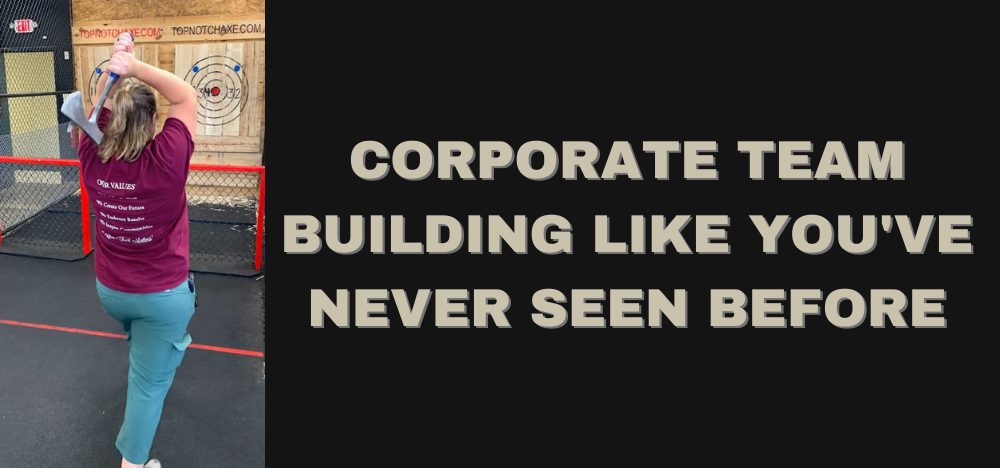 Corporate Team Building Like You've Never Seen Before
September 27, 2021, by:
Top Notch Axe Throwing
Corporate team building is fun, exciting, and inspiring when suitable activities are chosen. Team dynamics change over the life span of the team.  New teams likely need to build trust between members. Teams that have worked together for a long time typically have a certain level of trust and a system for communicating. They don't need to work on the basics. It's essential to consider both individual team member's needs and the needs of the group when planning a corporate team-building event.
Corporate Team Building
There are four general types of corporate team building. Typically team building is skill-based, as in you want to increase specific skills of team members. Types of team building include:
Communication Activities
Team building can enhance the ability of team members to communicate amongst each other. Activities focus on various aspects of communication ranging from framing concepts positively to how to handle a crisis. Clear and open communication is usually the goal for teams when it comes to communication.
Decision Making
When teams playfully work on decision-making skills together, they increase their skills for collaboration and adaptability. All team members are making thousands of decisions each day. Your team needs to understand how decisions are made to excel at their work.
Trust Building
Team members must depend on each other and trust that the team makes the right decisions. High-performing teams know how to trust each other. When trust is high, communication is clear and open for all team members.
Group Planning
Most people know how to make an individual plan, but group planning introduces new variables that personal planning doesn't require. At work, everyone is collaborating to accomplish a specific set of goals. What tasks need to be performed and by whom? Group planning tackles this dynamic of collaborative work.
Corporate Team Building Activities
Axe throwing is notching up the list of the most popular team-building activities. Why? Although we haven't conducted a scientific study, we host hundreds of corporate team-building events, and we've noticed a few things (here at Top Notch Axe Throwing.)
Focused Attention
Everyone knows there are certain things required to be part of a team. It's the people that matter, we know. But team building that isn't fun doesn't hold anyone's attention. And yes, attention to each other is the definition of team building.
Fun is a Requirement, Not an Option
Your first team-building activity is an adventure. After that, most team-building activities become mundane. When you choose team building activities like axe throwing, it's unexpected and doesn't even feel like your typical team-building activity. It's a fun activity.
Highlight Diverse Skills and Perspectives
We've heard stories from people that have worked together for 10+ years. They walk into our axe house as colleagues and walk out as friends. It's surprising and delights us each time. We know it's a fine line, but something magical happens when people get to spend time together "not working."  People share their perspectives on a variety of things. People relate. They learn about new skills and attitudes help by their teammates that often go unnoticed or unknown.
How to Host a Corporate Group Event At Top Notch Axe Throwing
We make your corporate team building events fun and stress-free at all Top Notch Axe Throwing locations. If you have special requests or would like any more information, please get in touch with us via phone at 314-855-1242 or via email at info@topnotchaxe.com or complete this online form, and we'll call you to finalize a date and plan.
Corporate Team Building Event Details:
The cost is roughly $35/person.
Catering is an additional cost. It is optional. Here is our catering menu.
You may bring your own drinks, including beer, in cans.
You and your group will have dedicated axe throwing lanes for your event.
Events typically last anywhere between 1.5 to 2 hours. You'll have an Axe Expert who will walk you through how axe throwing works during this time.
The most popular times for corporate events are during the week, but if you'd like a booking on the weekend, please let us know.