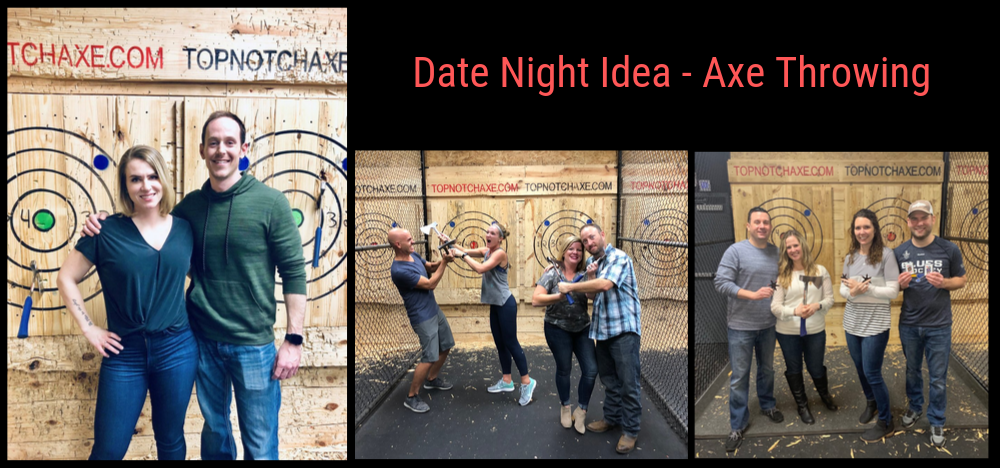 Date Night Ideas – Axe Throwing
October 17, 2019, by:
Top Notch Axe Throwing
Are you looking for date night ideas? Look no further. There are plenty of date night activities in and around the St. Louis area. But an axe-throwing date night stands out for many reasons. Axe throwing is a great way to get to know someone on a first date, a way to relieve stress or reconnect with someone whom you love. If you are looking for a date night activity that is healthy, interactive, and memorable, then come to Top Notch Axe Throwing. We have three locations in and around St. Louis so we're always nearby.
First Date Night Idea
First dates are always about making a positive impression on the other person. For a moment, image a friend asking you, "how did your date go last night?"  To which, you can reply, it was terrific, we threw axes. You can certainly impress people with such a statement. Plus, axe throwing is automatically a memorable activity for people because it's not something most people do every day.
If you want to learn about someone, hand them an axe and see what happens. Personalities shine threw as people get closer and closer to hitting the bullseye. Plus, you can gauge someone's level of competitiveness as you take turns throwing.
Stressed Out Parents
Routine and juggling household needs result in stressed-out parents. Why not blow off some steam by throwing an axe? You may even benefit from a little extra healthy physical activity. Nothing beats whizzing an axe threw the air as a way to decompress.
Axe throwing with your husband or wife can even lead to a little healthy competition. You can compete against each other or a couple of friends. Either way, it's challenging to focus on your phone or be distracted by random thoughts when you're throwing an axe. An axe-throwing date night might be the best 60 - 90 minutes you spend all month to focus on yourself and your love all month. 
Stay Connected With Your Partner
Sometimes it's fun to get out of the house and be out and about with the person you love. Axe throwing is a way to make memories. Sure, you might be learning something new when you throw axes. Or, you might find axe throwing to be something you both really enjoy and can dig into as a skill and hobby together. Whatever the case, we recommend staying connected to the people you love while doing something fun. We're partial to axe throwing!