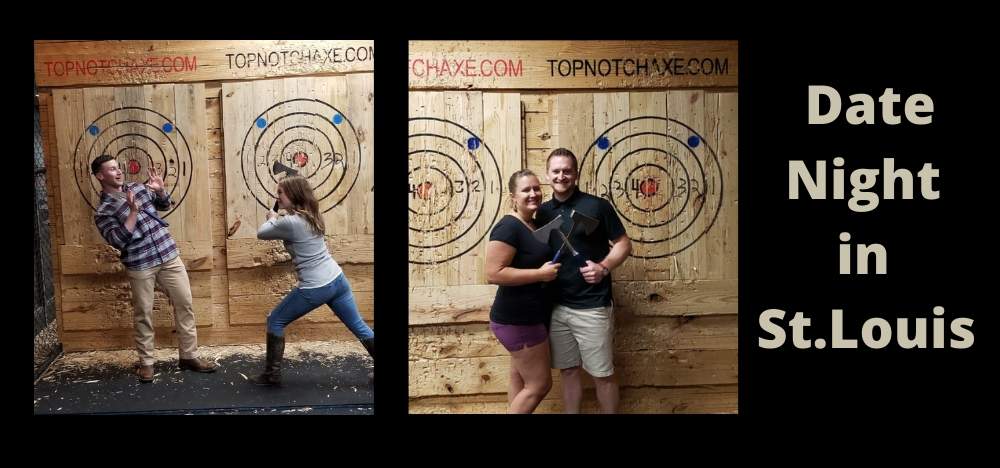 Date Night in St. Louis
January 15, 2020, by:
Top Notch Axe Throwing
Date night in St. Louis can be exciting and fun. If you're creating a list of date night ideas, don't miss out on these date night ideas in St. Louis because there's always something nearby to check out. In addition to being known for our beer scene, STL is full of live music opportunities and adventures for couples.
Axe Throwing for Date Night
There's only one axe throwing venue in downtown St. Louis, and it's Top Notch Axe Throwing. If you're not planning to be downtown, they have a location in St. Charles and Ballwin too. Axe throwing is perfect for date night. Make a reservation online to secure your 90-minute spot. 
On your way to throwing axes, grab a six-pack and bring it along because Top Notch is a self serve axe bar. Upon arrival, you'll meet your Axe Master, who will fill you in on the basics and answer any questions that you may have. Top Notch also supplies you with ninja stars and throwing cards, so be prepared for a fun date night adventure. Plus, Top Notch is rated #1 on TripAdvisor for Fun and Games in St. Louis.
Celebrate the St. Louis Beer Scene on Date Night
St. Louis has been named "The Best Scene" twice by USA Today readers (2018 & 2019). That's quite a feat considering any town in America could be named, and beer experts chose 20 cities for readers to vote on for this award. This makes the St. Louis beer scene expert-approved and #1 in the eyes of voters.
If you're a native or have been living in STL for a while, you won't be surprised by this designation. St. Louis breweries have a long history, while the entire local scene is very innovative. There are large breweries and micro-breweries to check out for a date night in St. Louis.
Another date idea is to attend the annual St. Louis Microfest. This beer tasting event allows you to taste test hundreds of international and local beers and is typically held annually in early May. Attend the event and bring a six-pack of your favorite beer to Top Notch to throw axes!
Live Music Date Night
Music venues are all over downtown St. Louis. You can choose from a terrific band playing in a dive bar, or you can see a major band on tour. St. Louis has a history of being a stop for most touring musicians. Hence, you always want to check your favorite band's schedule to coordinate your date night.
We also recommend Fair St. Louis for a date. This is a huge event at the Gateway Arch and Park across the street from Top Notch. Since it's in July over the weekend of July 4th, the weather is typically excellent. The bands are always top-notch and everyone loves a little music with fireworks. It's the perfect summer date.
Date Night in St. Louis
There's always something to do for date night in St. Louis. We know we're having a blast throwing axes and taking in everything that St. Louis has to offer for date night. We hope you visit us at Top Notch Axe Throwing and that you have a top-notch date!
Top Notch Axe Throwing Customer Review - "Great time for a date! It's different, interesting, and still leaves room for conversation." - Jon on TripAdvisor