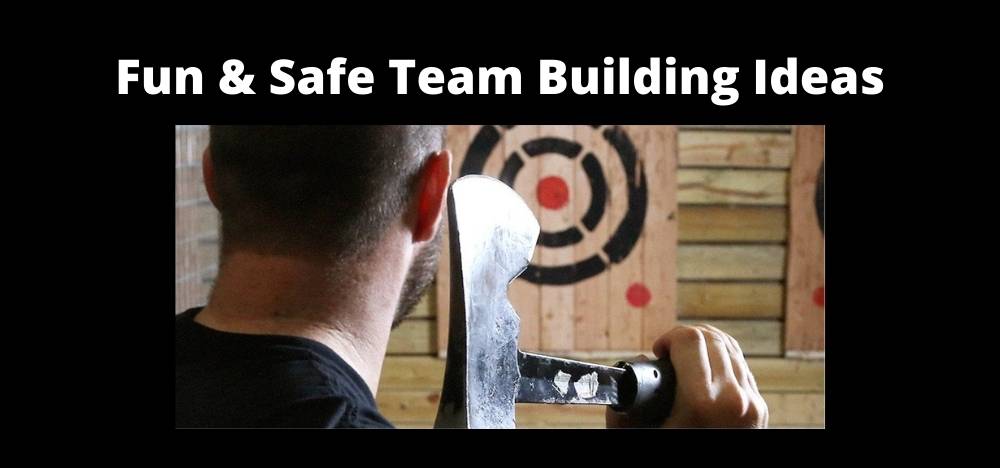 Fun & Safe Team Building Ideas
March 22, 2021, by:
Top Notch Axe Throwing
It's 2021, and it's been a while since we've seen everyone in the office. As we move further and further into the year, employees are asking for team building again. Small groups started to book our private axe throwing experience in February. To help everyone get back to team building, we're here with a list of fun and safe team-building activities in the St. Louis area.
Socially Distanced Safe Team Building Ideas
Axe Throwing While Social Distancing
We're keeping everyone safe here at Top Notch Axe Throwing by following local regulations and CDC guidelines. We're adjusting as everything changes, but in general, this means social distancing, masks, and weekday private corporate team building. We've received plenty of positive feedback and hope you'll schedule your team building here.
Outdoor Scavenger Hunt
This is an outdoor activity where small groups can compete against each other. Lots of fresh air and small group interaction. Most people organize scavenger hunts using QR codes. Then post the codes around town. Give everyone clues to lead them to the locations so they can scan the code. The team that gets the most codes in the given period wins.
Private Escape Room Booking
Local escape room, Mastermind Room Escape, is currently booking private rooms for groups. They clean before and after each group plays. So if you're up for picking a fun theme like Diamond Heist or Davinci's Workshop, this would be a fun way to spend time together.
Fun Team Building Activities
Axe Throwing for Small or Large Groups
Here's one more plug for axe throwing here at Top Notch. We're the only downtown axe throwing company in St. Louis. We have two other locations, St. Charles, Ballwin, and Round Rock, TX, too. We book small and large groups, team-building groups. We've been host to volleyball teams, church groups, office departments, and even road crews for several famous performers.
I Spy
A game known to parents everywhere, I Spy can be a fun virtual team-building activity with a little adapting. During your next meeting, take 10 - 15 minutes for everyone to choose 3 items they can see from their desk. Ask them to share the three items and talk about which one is their favorite and why. Often you'll get to see photos of family members, learn about a new book or maybe get to know that your supervisor is a Master Gardner. Don't forget to take a moment for everyone to spot one thing they see on someone else's screen and ask questions. Is that Yoda I see in the background? Are you a Star Wars fan?
Team building hasn't gone away during the pandemic. In fact, we think the pandemic has and will continue to emphasize the importance of work colleagues. Make a team-building reservation at Top Notch Axe Throwing today.