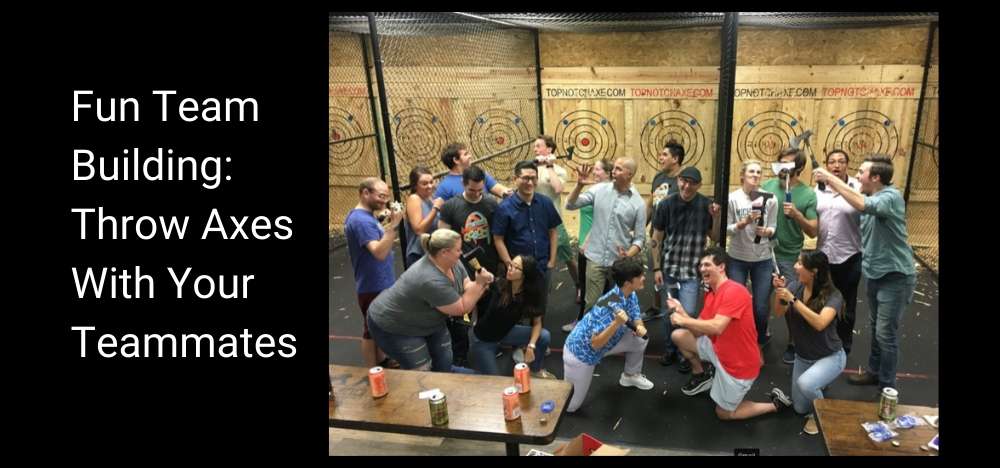 Fun Team Building: Axe Throwing
November 11, 2019, by:
Top Notch Axe Throwing
Our approach to team building is a little different. We hand everyone an axe, provide training on how to throw it, and let everyone have fun. We believe fun team building is about creating a space for team members to connect as human beings. Our three venues are the perfect spot for all your team members to connect and have fun.
We don't force you and your co-workers to get to know each other. We don't distract you with metaphors for collective actions. There aren't facilitated talks about collaboration. There is axeual fun when you choose axe throwing for your next team building outing.
We understand most people appreciate a little break from the grind of everyday life. Typical employees are juggling a crazy life. You are short on time and continuously prioritizing what's important at work and home. But, when everyone takes the time to have fun together, your entire team benefits.
Why Axe Throwing for a Team Building Activity?
Corporate team building at Top Notch Axe Throwing was established to encourage members of your team to relax together in a casual environment while learning a new skill. Yes, you might be thinking, I don't want people throwing axes around the office, and we don't either. But we do believe learning a unique skill, like axe throwing, leads to better problem-solving skills, stronger relationships, and new ways of thinking. These skills transfer to your office environment every day. Plus, it's fun!
The Benefits of Axe Throwing for Teams:
Boost Team Energy

Improve Camaraderie

Facilitate Communication
What Are People Saying About Axe Throwing & Team Building?
But, at the end of any team-building experience, it's really about having fun together as a team. We're proud to share that our team building clients regularly provide feedback like this:
"Our office visited Top Notch for a Thursday evening event. We opted to hire a local caterer to bring in BBQ and serve beer. Friendly staff teaches everyone how to make the most of their experience. It was great fun, and we look forward to another event there in the future."
"Axe throwing doesn't seem like a corporate activity at first glance, but what a blast! Our department has many individuals-various ages into 60s, male and female, tall and short, and everyone was able to participate and had fun surprising each other and ourselves at our ability - everyone plays, there is even a tournament, and winners get a prize! We also used throwing stars and steel playing cards that were so fun—one guy said he was living out his childhood fantasy!! Lol! We were celebrating a big accomplishment and brought in food, cake, and suds! I highly recommend it! Good fun! Also, I would rate this very high for safety and providing great demos on how to safely throw!"
What Companies Have Thrown Axes at Top Notch?
Good question, here's a sample.
Centene World Wide Technology
Amazon
Energizer
Steifel
BJC Healthcare
Cybergs
Enterprise Rent A Car
Edward Jones
Team Building for Large & Small Groups
You have the option to rent the entire space or a few throwing lanes. We often host small businesses or departments who want to celebrate a job well done on a weekday afternoon. If you would like a private team-building experience, you can reserve an entire Top Notch venue.
The Details for Your Team Building Axe Throwing Event
Top Notch Axe Throwing offers a unique corporate team-building experience for your company or department. We have 3 BYOB facilities, including downtown St. Louis, St. Charles & Ballwin / West County. Our downtown STL location is across from the Gateway Arch and a short walk from the many great bars, restaurants, and attractions. Our facilities accommodate groups of up to 100+ people at a time. We have an optional catering menu for large groups. Smaller groups can reserve specific throwing lanes for a team outing. Contact Us.