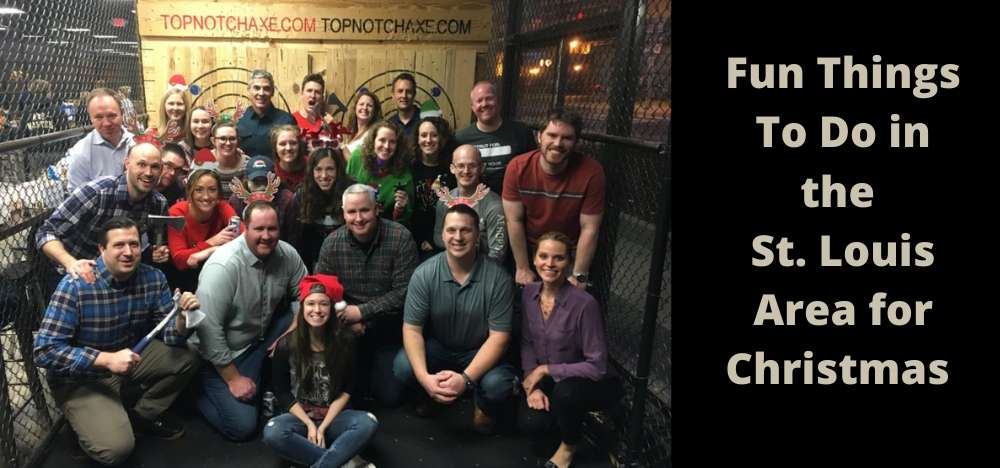 Fun Things To Do for Christmas in the St. Louis Area
December 12, 2019, by:
Top Notch Axe Throwing
Christmas is a terrific time to get together with friends and families. For those of you looking to have fun as a group, we've compiled a list of our favorite things to do in the St. Louis area during Christmas week.
#1 Axe Throwing
Axe throwing is a very fun group activity. And most people can participate in axe throwing. Even when people are leery of being able to throw an axe, we find everyone ends up having a good time. For special holiday hours see below.
#2 See Christmas Lights
Sometimes you just want to see or wander through some Christmas lights. You can find a neighborhood with terrific lights around the corner. Or, you can visit the Zoo or Botanical Garden or Brewery and see some spectacular lights. Check out some of our favorites, including Wild Lights at the St. Louis Zoo or Garden Glow or Anheuser-Busch Lights Tour 2019.
#3 Elf Escape or Home Alone Escape Room
Escape rooms are a great way to celebrate the holidays together. It so happens, Mastermind Room Escape has two Christmas rooms, Elf Escape and Home Alone. They are so much fun that they are a local holiday tradition!
Special Holiday Hours at Top Notch Axe Throwing
We're open special holiday hours, which vary by location:
St. Charles
12/23-12-10:00
12/24 12-7:00
12/25 Closed
12/26 12-11:00
12/27 12-11:00
12/28 11:30-11:00
12/29 12:00-10:00
12/30 12:00-10:00
12/31 12:00 10:00
1/1   5:00-9:00
St. Louis
12/23-12-10:00
12/24 12-7:00
12/25 Closed
12/26 11:30-11:00
12/27 11:30-11:00
12/28 11:30-11:00
12/29 12:00-10:00
12/30 12:00-10:00
12/31 12:00 10:00
1/1   2:00-9:00
Ballwin
12/23-12-10:00
12/24 12-7:00
12/25 Closed
12/26 12:00-11:00
12/27 11:30-11:00
12/28 11:30-11:00
12/29 12:00-10:00
12/30 12:00-10:00
12/31 12:00 10:00
1/1   5:00-9:00