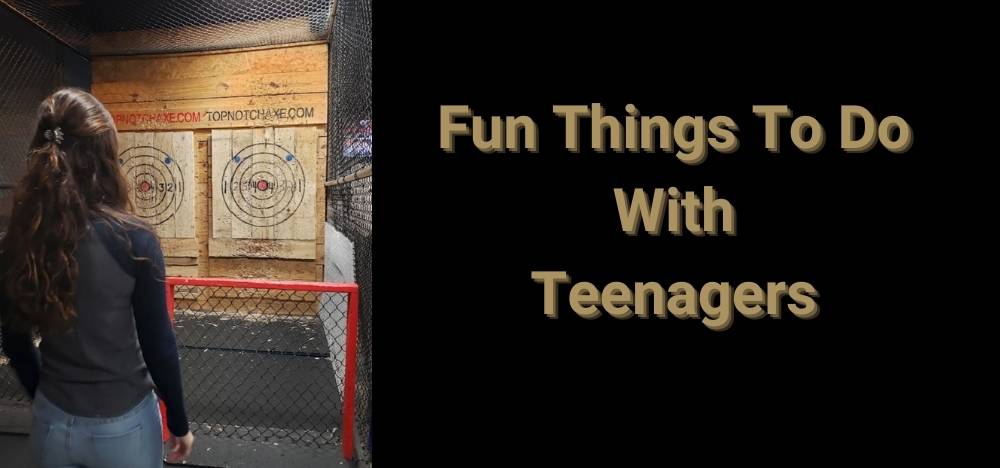 Fun Things To Do With Teens
October 25, 2022, by:
Top Notch Axe Throwing
Everyone seems to be looking for fun things to do with teens. Teens like various activities and choices, so it's a good idea to ask your teen what they are interested in. Presenting a few options is typically a good idea. We've rounded up a list of things we like to do with the teenagers in our life.
Plus, at Top Notch Axe Throwing, we have the honor of hosting many teens. Often it's for a birthday party, but it's also just a fun thing to do as a day out with your favorite teen. Axe throwing is adventurous enough to keep all ages engaged.
Things to Do With Teens
Axe Throwing
Axe throwing is a terrific family day out or an easy impromptu activity with teens. Sometimes everything doesn't go right in a teenager's life, and it's essential to have a go-to activity to bring cheer. Axe throwing is the right combination of physical activity and coolness that teenagers readily walk-thru the door regardless of what kind of day they're having. It's a challenging activity to get right, yet it's easy to try. Most cities have axe throwing venues nearby.
Note: Top Notch Axe Throwing has 4 locations. Three locations in and around the St. Louis area and one in Round Rock, TX. Teen birthday parties are welcome; contact us to schedule the time.
Physical Activities
In general, physical activities are suitable for teenagers. Teens have a lot of energy, and their hormones are constantly adjusting. Physical movement helps to calm the brain and nervous system. Basketball, water skiing, tennis, rock climbing, running, hiking, and active video games are the perfect physical activity. Try presenting a few options.
Community Service Projects (The Fun Kind)
Teens can genuinely enjoy giving back to their community. Whether hosting a fundraising event, cleaning up at the local park, or helping out at a retirement community, teens are often ideally suited to help others. Those are just a few ideas. There are so many ways to help. If you think this might be a good idea, ask your teenager what they might be interested in doing and offer to go along and provide additional help. Let them lead the way; we promise it will be fun for you too.
Free for All - Let Them Decide, aka the Most Fun Thing to Do With Teenagers
Letting the teenager lead the way, offer a "Free for All" day or afternoon. This is one of the most highly rated options for teens because they can choose what to do. Although teenagers these days have plenty of choices, they are usually predefined choices. Teenagers are intelligent people; let them decide what to do. You might find yourself throwing axes!
Art Museum
Art Museums are terrific places to learn; they are also spaces to inspire creativity and explore ideas outside of what most people experience daily. Due to their uniqueness, art museums tend to have a unique draw for most teenagers. There's something for everyone in art.
Book Store or Library
It might sound old fashion, but bookstores and libraries fulfill a quiet and ordered space in today's chaotic world. Teenagers will appreciate the calm nature of being around books. You can discuss different topics and potentially find a book that you both want to read. Maybe you'll uncover a new hobby to enjoy together!
About Top Notch Axe Throwing
Top Notch Axe Throwing is rated #1 by customers on Google and TripAdvisor. There are four Top Notch Axe Throwing venues, including downtown St. Louis, St. Charles, Ballwin, MO, plus Round Rock, TX. Book axe throwing in MO or TX now. Are you interested in throwing an axe throwing party? Contact us.