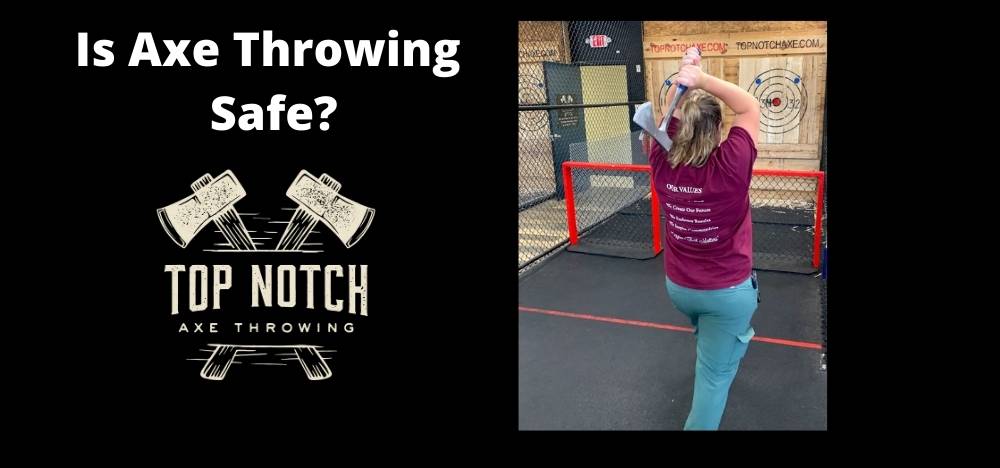 Is Axe Throwing Safe?
September 29, 2020, by:
Top Notch Axe Throwing
Yes, because Top Notch Axe Throwing has axe throwing safety protection and procedures. We've safely served thousands of people at Top Notch Axe Throwing.
Here's what we do at Top Notch Axe Throwing to keep everyone safe continuously.
Axe Master Safety Briefing
Everyone throwing axes at Top Notch goes through a safety briefing.
Upon arrival, everyone meets their Axe Master. Our Axe Masters will go over a handful of items with you and your group before you throw an axe. During the safety briefing, we cover:
How to throw an axe
The throwing line
Bounce back avoidance
How to properly "store" the axe between throws
Plus, your Axe Master will provide a few tips to help you hit the bull's eye. Ask your Axe Master a question at any time. They're here for fun and safety.
Axe Throwing Safety Bounce Back Guards
We are the only axe house that we know of that has installed axe bounce back guards.
Here's the thing, axes don't always hit the target exactly right. Everyone has to learn, right? Sometimes, axes hit the target and bounce back away from the target before landing on the floor. Because we know axe throwing is so fun, and it can be difficult to stay behind the axe throwing line, we've installed axe bounce back guards. Now, there's no need to worry.
Axe Throwing Line
Mind the line when you're throwing axes.
Technically, your throw shouldn't count if you go over the axe throwing line, but we're no line judges around here. With that said, we encourage everyone to stand behind the axe throwing line and to stay there until the axe is on the floor. Remember those bounce back guards above, if you move, definitely do not hurdle the guard.
Assigned Throwing Lanes for Axe Throwing Safety
Every person and group is assigned a throwing lane.
Similar to a bowling alley experience, your axe throwing lane is the area with your specific target and bull's eye. It's your assigned axe throwing space while you're at Top Notch.
Each lane comes with a small table area for snacks, beer, and any other personal items you bring with you.
Group Separators
Our largest location in downtown St. Louis can hold over 100 people throwing axes. Not everyone is throwing at the same time; still, it's important to keep everyone safe.
In addition to assigning everyone a throwing lane, we've installed different "walls" using chain link fencing to provide space for different groups. We've also added a few (real) walls for privacy and protection. The fencing helps provide a visual queue to stay focused on your throwing lane and bull's eye.
Kids Require Adult Supervision
Everyone at Top Notch pays to throw axes. We don't have spectators hanging out. This includes kids. It also helps keep everyone focused on the task at hand, throwing axes.
Kids age 8+ are allowed to throw axes at Top Notch. We do host birthday parties and groups of kids, which brings us to our next safety point - adult supervision is required for kids. We highly recommend that you have 2 or more adults for each group of 10 kids.
COVID-19 Specific Cleaning
Finally, since COVID-19 hit in 2020, we've implemented additional cleaning procedures. We clean axe handles between each group. Plus, we wipe down surfaces regularly, including the welcome counter and other frequently used areas. All staff wears masks. We encourage everyone to throw axes to wear masks, but we do not require it unless required by local or state laws.
Safety is Important at Top Notch Axe Throwing
There you have it. We've implemented a safety briefing for everyone, installed lanes, created group areas, and have axe bounce back guards. That's how we keep everyone safe while throwing axes at Top Notch. If you have questions or concerns about safety, please contact us; we're happy to help and answer any questions.