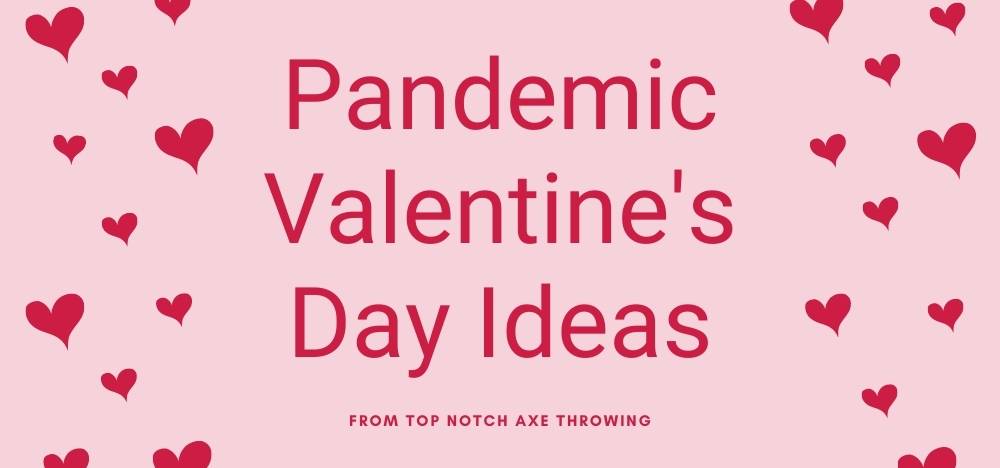 Pandemic Valentine's Day Ideas
January 20, 2021, by:
Top Notch Axe Throwing
With 2020 behind us, we're all looking forward to getting out of the house for Valentine's Day 2021. Even though we're still living through a pandemic, you can get out and about for Valentine's Day this year. We have 8 pandemic Valentine's Day ideas that range from learning to throw axes to volunteering.
8 Pandemic Valentine's Day Ideas
#1 Learn to Throw Axes
If you're looking for an adventurous activity this Valentine's Day, then we recommend axe throwing. The Axe Masters at Top Notch Axe Throwing are super helpful at teaching everyone to throw axes. Plus, if you've thrown axes before or want to try something different, there are ninja stars and throwing cards on hand for you to throw.
#2 Avoid Cooking & Dirty Dishes with Take Out or a Restaurant Reservation
We've all been cooking more at home during the pandemic. Take the night off from dirty dishes, make a reservation or grab some take out food from your favorite spot. Your local restaurant community is struggling and will appreciate your business. Step it up a notch and make a night of it. Have a picnic in a local park or visit a BYOB location like Top Notch Axe Throwing, which allows you to bring in your own food and drinks. We recommend The Rack House Kitchen Wine and Whiskey. It's in the same plaza as Top Notch's St. Charles location and has won many local awards for food and drinks.
#3 Book a Staycation
Get out of your house and forget about home projects and daily chores. A staycation offers a change of scenery without a long drive or plane ride. Book a night in a local hotel, Airbnb, or bed & breakfast. You'll wake up in the morning refreshed from a quick break in your normal routine and a change of scenery.
#4 Get Dressed Up
Let's face it, we've all gotten a little too comfy in our leisurewear. You don't have to wear a gown, tux, or sports coat to get dressed up. Valentine's Day is the perfect time to invest in a new piece of jewelry. Consider wearing jewelry as the act of getting dressed up during this pandemic.  Keep it simple this year, and wear your new piece of jewelry for dinner at home or out on the town.
#5 Enjoy Something Chocolaty
Chocolate is the favorite flavor of Valentine's Day. Bake a special treat at home or pick something up from one of our local chocolate companies. Take a few moments to sit down with your special person and enjoy your favorite chocolate. Or, if you're single, buy something special for yourself. Enjoying something chocolaty is easy and doesn't require a big investment of time or money.
#6 Scavenger Hunt
This is the perfect activity if you have a whole group of people you love or your special someone who really enjoys games. Plan a scavenger hunt around your home or in your community. You can make it as elaborate or simple as you like. The key is to incorporate surprise and intrigue in the hunt. You can even end your hunt at Top Notch Axe Throwing. We'll be happy to hold a spot for you when you make a reservation.
#7 Beer Tasting
Let's face it, we love our beer around here. St. Louis has a long tradition of brewing and that means it's easy for us to get our hands on excellent local beer. Local breweries are producing new flavors all the time. Valentine's day is the ideal time to try new brews. Don't forget, Top Notch is BYOB, so you can grab a variety 6 pack and taste test as you throw axes.
#8 Volunteer
It's been a tough year for everyone, but some people have been hit harder than others. Celebrate Valentine's Day this year by volunteering and doing something nice for someone. You can collect toiletries for a local shelter and make a delivery on Vday. Bake a meal for a family that you know who needs it. Or maybe help a friend with a home improvement project that they can't afford right now but desperately need. A little kindness is sure to make the world a better place.
If you're like us, you're not going to let this pandemic stop you from celebrating Valentine's Day 2021. At Top Notch Axe Throwing, we're doing everything we can to keep everyone safe and healthy. We wish you a happy Valentine's Day!