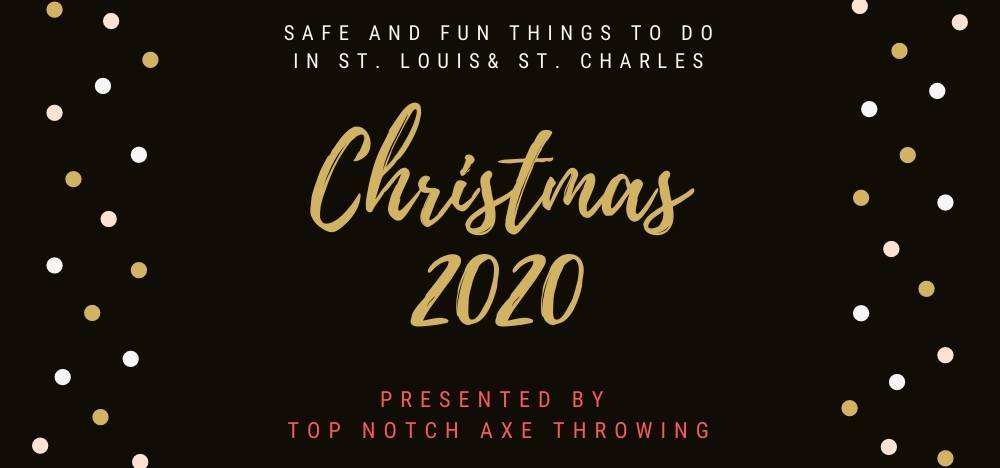 Safe Things to Do for Christmas 2020 and New Year's Eve
December 6, 2020, by:
Top Notch Axe Throwing
There are safe and fun activities to do for Christmas 2020. COVID has hit our community hard. As a local business, we're proud to live here and be open to people who want to throw axes. We've put extra cleaning and distance between groups to help keep everyone safe. If you're not ready to come out to throw axes right now, that's okay; we'll be here when you're ready.
If you want to purchase gift vouchers now as a gift, that will really help us get through this difficult time as we deal with fewer STL visitors and ever-changing announcements due to COVID. Gift vouchers are easy to purchase online. You simply purchase and print from the convenience of your home.
PURCHASE AN AXE THROWING GIFT VOUCHER
In terms of Christmas 2020, there are plenty of safe and fun things to do this Christmas and New Year's Eve. We've pulled together a list of activities for you to have fun this 2020 holiday season.
Safe & Fun Activities for Christmas 2020 and New Year's Eve
#1 Top Notch Axe Throwing
We would really like to see you throwing axes. We're open for business and private corporate parties. We're doing a terrific job keeping all groups spaced out from one another at each location. Plus, we have extra cleaning measures in place. We recommend making reservations. This will help us plan and keep everyone safe during this pandemic.
Don't forget we are BYOB and the #1 rated local axe throwing facility.
#2 St. Louis Zoo Wild Lights Christmas 2020
The Zoo is always a terrific place to visit. In 2020, they really went all out decorating with lights. If you like animals and Christmas lights, this experience is perfect for you. If you want to stroll outside with friends and family, then this is a good option. Advanced tickets are required, and you have to pick your preferred visit time upon purchase. January 2 is the last day to experience the St. Louis Zoo Wild Lights.
#3 The 35th Annual Brewery Lights
After swinging by Top Notch, drive through the lights at the Anheuser Busch Brewery nearby. That's right, this year they have everything set up so you can simply drive around to see the lights. It's certainly festive with nearly 1 million lights and Christmas music playing.
Admission for the drive-thru experience is complimentary. On Friday and Saturday nights, guests are encouraged to bring non-perishable foods to donate to the St. Louis Area Foodbank.
#4 Downtown St. Charles
It's always fun to walk around downtown St. Charles. This holiday season brings extra-special experiences like the evening candlelight processionals. The Legends of Christmas and anyone who wants to join in can walk around downtown and carol. This would be a great way to cap off your evening of axe throwing at our St. Charles location. On Wednesdays, Fridays, & Saturdays at 8:30 PM and Sundays at 4:30 PM, head out to the 900 Block of South Main Street to Kister Park to see or join in this candlelight processional.
#5 Krampus Karnival
Krampus and axe throwing often go together this time of year. European folklore historically involves axe throwing at Krampus Carnivals. In general, Krampus is a companion of Saint Nicholaus. The Karnival is something fun and slightly offbeat. You will surely be entertained by the cast of characters, like Gryla (the quirky Icelandic ogress) and games at the Krampus Karnival on Wednesdays and Fridays from 6:00 PM to 9:00 PM at Katy Depot in Frontier Park. The St. Charles Krampus Karnival only involves axe throwing if you come to Top Notch before or after attending the festivities.
#6 Mastermind Room Escape
If games are your thing, try a Christmas escape room at Mastermind Room Escape. These escape rooms are so good that they are a Christmas tradition in the St. Louis area. New this year, Mastermind is allowing groups to book a private room. So gather everyone in your bubble and experience Elf or Home Alone.