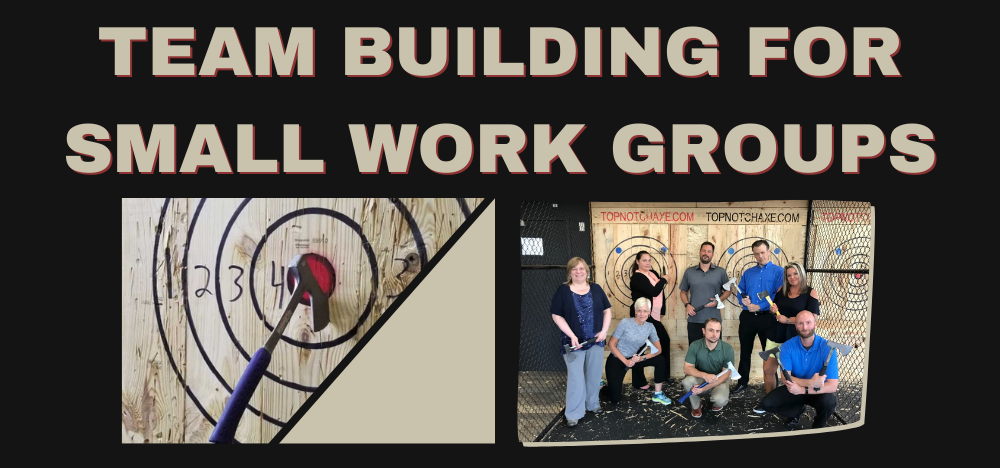 Team Building for Small Workgroups
February 16, 2023, by:
Top Notch Axe Throwing
Small work groups need to be agile and focused on critical organizational tasks resulting in successful project outcomes. To do so, people within the team must know each other well enough to trust each other and know each other's skills. By building a cohesive team culture, each member can contribute their unique skills aiding the collective outcome. Here are a few ideas of team building activities that have proven helpful for small workgroups:
What Are Small Work Group Team Building Activities?
Team building doesn't have to take up too much time. Creating space for team members to have fun together is typically enough for everyone to feel relaxed, tap into their unique skill set, and share it with the team.
Axe Throwing
Axe throwing takes team members out of their comfort zone just enough to spark a shared group experience. Throwing axes is something most people can do as long as they can get their arms above their heads. It's typically not something people do every day, so no one is better than anyone else at it (if you have a highly competitive group). Plus, it's an enjoyable activity that gets everyone out of the office for a couple of hours.
Bird Watching
Getting out into nature is essential for everyone, especially if you spend all day inside and look at a phone or computer screen for several hours a day. Readjust your eyes and try to spy a few birds. As a small group activity, bird watching can mean grabbing a few sets of binoculars and heading outside to the parking lot. The group can share the binoculars, as it's helpful to have spotters seeing the big picture (sky) too! To make it even better, every one can meet at a local park for a short stroll while bird-watching.
Volunteer Day or Partial Day
Local nonprofits can always use extra volunteers. Choose a local nonprofit and arrange a day when your entire team shows up to help out for the afternoon. Team members will find this activity engaging and feel a sense of accomplishment knowing they contributed positively to the community.
About Top Notch Axe Throwing
Top Notch Axe Throwing is rated #1 by customers on Google and TripAdvisor. There are four Top Notch Axe Throwing venues, including downtown St. Louis, St. Charles, Ballwin, MO, plus Round Rock, TX. We regularly host parties. Book axe throwing in MO or TX now. Don't forget you can BYOB! Check out our team building page for small workgroup team building details.