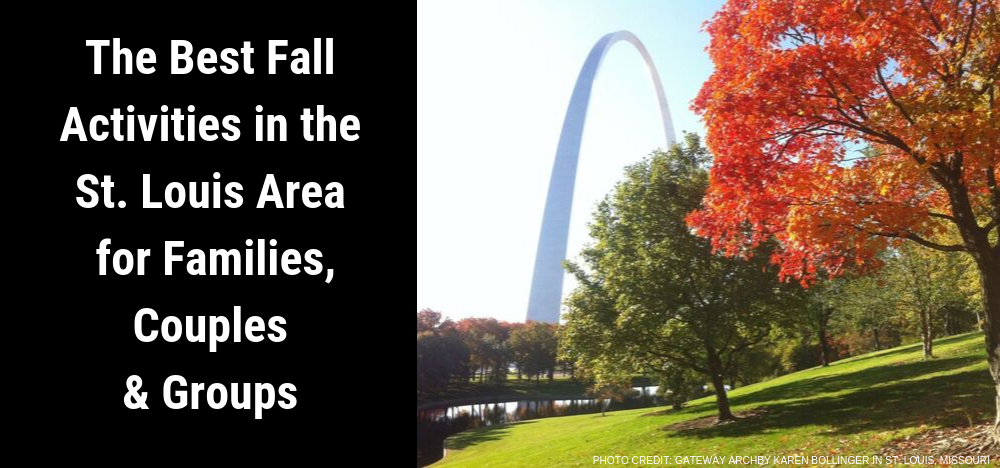 The Best Fall Activities in the St. Louis Area for Families, Couples & Groups
September 18, 2019, by:
Top Notch Axe Throwing
The Best Fall Activities in the St. Louis Area for Families, Couples & Groups This Fall
Are you looking for things to do near St. Louis, St. Charles and Ballwin this fall? We're here to help with our top picks for the best fall activities in the St. Louis area. We have 3 Top Notch Axe Throwing locations, so we've chosen events near our sites. You can pair these recommendations with axe throwing to create the best fall adventure possible.
As everyone knows, fall is the perfect time to get out and about. It's typically sunny, and there are plenty of themed activities dealing with the harvest time, Halloween and the upcoming Thanksgiving/Christmas holiday season. 
We've included the best local festivals and fairs on our list to keep you active all season.
Downtown St. Louis Fall Activities
Gateway Arch - Specifically, take the tram to the top for sweeping views of the entire St. Louis area. The view is breathtaking when the leaves change color.
Citygarden - Visit city garden, an urban oasis in downtown St. Louis. Check out the Instagram account to see what you're in for.
Missouri Botanic Garden - Fall is the best time to visit the gardens. The weather is cooler, and the gardens will glow soon.
Tower Grove Park - A public park and arboretum is perfect in the fall. Plus, the park is host to three signature events Sept - November including Martini's at the Mansion, Terror at Tower Grove Park and Tower Trot 5K.
Historic Shaw Art Fair - This superb art fair happening Oct 5 & 6, 2019, is located in the historic neighborhood known as the Shaw Neighborhood.
Haunted House Experience - There are many Halloween and haunted house experiences in the area. 
Ballwin/West County Fall Activities
Harvest Festival - Harvest Festival is held at Laumeier Sculpture Park on October 13. This event includes a farmers' market with locally grown produce plus local beer and wine. There will be live bluegrass music, food vendors and art too!
St. Charles Fall Activities
Renaissance Festival - The St. Louis Renaissance Festival is ongoing each weekend, September 14 - October 13, 2019. We admit, there's plenty of overlapping interests when it comes to axe throwing and renaissance fairs. So enjoy juggling, gypsies and washing well wenches but don't forget Top Notch Axe Throwing is just a short drive away.
St. Charles Oktober Fest - During the last weekend in September, St. Charles comes alive with food and beer gardens to celebrate the harvest season. This is an event, not to be missed.
When You're Hungry & Ready to Throw Axes
Top Notch Axe Throwing has 3 locations. We're easy to get to from all of the fall activities listed above. Plus, we're BYOB. We recommend making a reservation online. Book Now.
If you're hungry, we recommend checking out one of these top-notch food spots:
Pi Pizzeria is our favorite place for deep dish pizza. Like Top Notch, Pi has several locations, so it's easy to find one nearby.
Located in Manchester, MO, just 5 minutes away from Top Notch Ballwin/West County is Fuzzy's Taco Shop. Fuzzy's has a "cult-like following" since opening in Fort Worth, TX, in 2003.
Open 24 hrs, Uncle Bills Pancake and Dinner House is perfect at any time of day. Located just down the street in Ballwin, you can go here to replenish after any axe throwing adventure no matter the time of day.