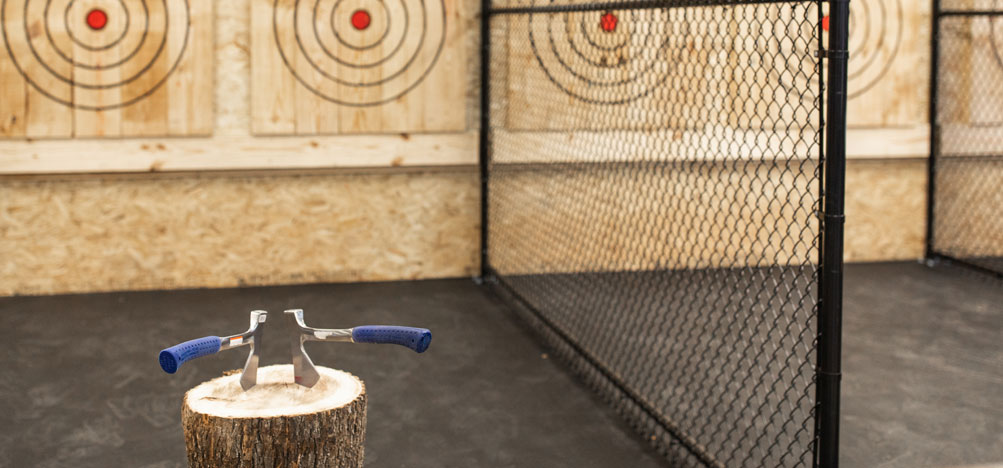 The Humble Beginnings of Axe Throwing – From Canada to Chicago to Downtown St. Louis
September 4, 2018, by:
Joe Prinster
---
Top Notch Axe Throwing is a BYOB axe bar located in downtown St. Louis next to the Gateway Arch. We offer a safe and casual environment for groups to have fun together. We are ranked #1 for Fun & Entertainment in St. Louis on TripAdvisor.
---
The history of axe throwing
Axes resembling those of today were first thrown by soldiers in the Middle Ages. As foot soldiers approached their enemies they would hurl tomahawks overhead in an attempt to defeat them. Although there are many axe-like weapons and tools, axes used for throwing sports came from Celtic tribes in Europe.
It's difficult to pinpoint what century axe throwing became a sport. There is general agreement that it moved from Europe to the New World when people immigrated to what is now North America. Specifically, axe throwing landed in Canada. Axes were a handy tool on the northern frontier and used for fun and sport.
According to Forbes, the first axe bar in North America opened in Toronto, Canada, in 2011. "Toronto bartender and actor Matt Wilson opened an indoor arena with axe throwing and drinks," says Forbes. From Toronto, urban axe throwing spread south across North America.
Chicago, the first axe bars in the U.S.A.
The first axe bars in the U.S. opened in Chicago, IL. A couple of businesses claim that they were the first to open in Chicago. At this point does it really matter who was first? The community is growing so quickly...everywhere!
Competitions are held at specific locations and between different home locations. Although throwing axes is a disciplined sport, competing is always fun.
The beginning of urban axe throwing
Indoor axe typically throwing happens at axe bars in urban environments like St. Louis. There are many established U.S. cities with axe bars. Hot spots include Chicago, Brooklyn, Indianapolis, Washington D.C. and Denver. Top Notch Axe Throwing is the first axe throwing bar located in downtown STL.
2018 - Top Notch Axe Throwing, the first axe bar in Downtown St. Louis
Opening in early 2018, Top Notch is located across the street from the Gateway Arch in the heart of everything downtown. Our axe bar was designed to be casual and safe. The bar is organized into axe throwing lanes, similar to what you would find in a bowling alley.
Groups of friends and co-works fill each lane. Whether you want to throw just for fun or make a game of it, we have Axe Masters on hand to help you at any time. And don't forget, we are a BYOB facility!
About Top Notch
Ranked #1 for Fun & Entertainment on TripAdvisor
BYOB facility
Corporate teams, parties and other groups welcome
Reservations Recommended - Book Online
Ideal team building activity