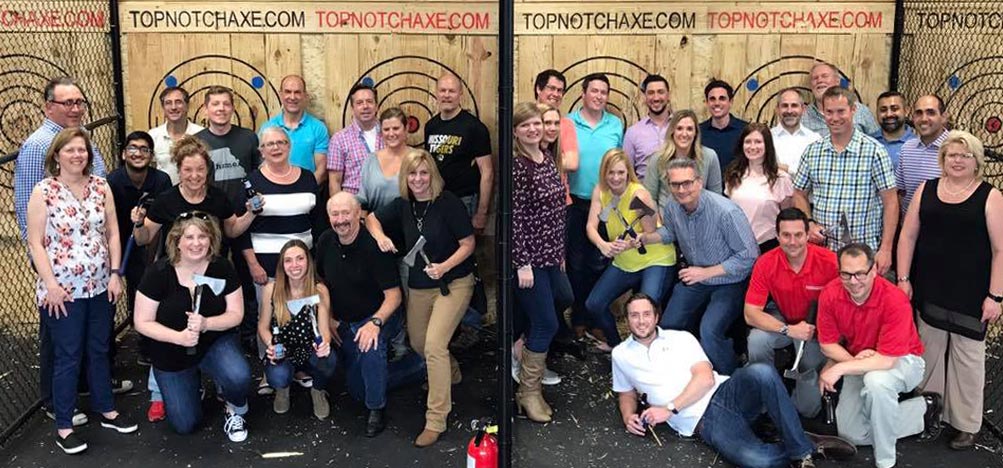 The Ideal Corporate Team Building Activity? 3 Reasons Why Axe Throwing Could Be It.
November 8, 2018, by:
Top Notch Axe Throwing
Welcome to the ideal corporate team building activity - axe throwing. At Top Notch Axe Throwing, we've been serving team building groups since we opened our doors. And the feedback has been 5 stars out of 5 stars. So if you're looking for a team building experience that's fun and engaging, located in St. Louis and has catering so you can make "an event of it" then you're in the right place.
Here is why axe throwing is a top notch corporate team building activity...
#1 It's Axeually Engaging & Fun for Your Team
Let's be honest, when it comes to team building, there's always someone in the office who's skeptical.
As the Axe Experts, we get to watch everyone and keep a close eye on happiness levels. As more and more corporate team building groups enter our door, we've started to notice something. Exciting things happen in that conversation space while throwing axes and it's employee engagement.
In other words, if you want to learn something about someone, hand them an axe and say throw it. That's what happens at Top Notch.
#2 Conveniently Located in Downtown St. Louis
Top Notch is located near the Gateway Arch. We are easy to find, located on the first floor and we are ADA accessible.
Whether your employees are from out of town or locals, everyone agrees The Arch is the place to be in St. Louis. In addition to The Arch, there are other activities to take advantage of in the immediate area. No buses or cars required just exploring around downtown is fun and entertaining.
Top Notch is located within walking distance of most major hotels and downtown restaurants. In short, take in the aquarium, stadium, ballpark, casino and convention center after you throw axes.
#3 Catering or BYOB Options Make a Great Event
Top Notch makes it easy to create an entire event with catering and BYOB options. Our catering menu has a variety of options to suit the needs of large groups.
As a BYOB facility, you can choose exactly what adult beverages suit your group and bring it along with you. And if you think you might need a little snack, you can bring that along too.  Or you can buy water and other non-alcoholic drinks from us. Our BYOB policy even saves some groups money.
Just contact us to create your custom axe throwing team building event.
What Our Corporate Team Building Clients Say About Top Notch
Great Place, Professional Instruction, Fun Time!

"My work held a coworker event here and it was the best idea ever! This was my first time throwing an axe, and I got the hang of it fairly well in about 45 mins to an hour. Great team-building activity, instructors are available to offer tips throughout your time, and it's a fantastic workout!"  -Emma F
Great Team Builder
"I took my management team out for some time away from work. They were a little unsure at first of axe throwing, but after they got going everyone had a great time. Staff were very helpful. There were lot's of smiles from everyone and they were all talking about it the next day. This is a great stress reliever and fun for all!" -Cody B
Fun time if you're looking for something unusual to do for team building
"For a team building adventure, my company booked a session at Top Notch. everyone had a blast. Our management staff is multigenerational and very diverse but all had a great time. Consider bringing your own food and drink as they do not have any concessions." -Chris M
Generally speaking, have you found your ideal corporate team building activity? We think so. We enjoy hosting corporate groups large and small. We had a visit from Brett Eldredge, his record label team and tour buddies. And we've had the pleasure of hosting corporate team building groups from McCarthy World Wide (construction industry), KPMG (financial industry), Anheuser-Busch (brewing industry) and more.