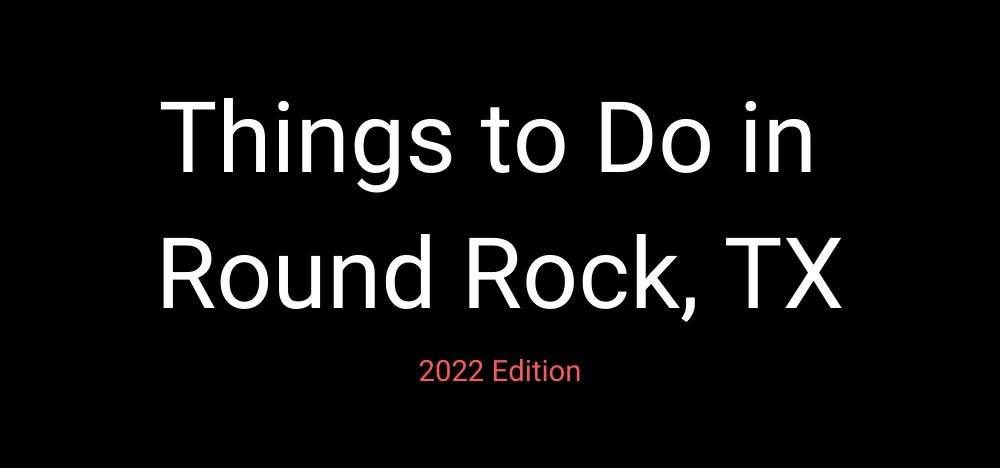 Things To Do in Round Rock, TX
February 21, 2022, by:
Top Notch Axe Throwing
Just outside of Austin is Round Rock, TX. Known for its lush parks, coffee, donuts, and bountiful amenities ranging from golf to axe throwing, it's also family-friendly. In late 2021, Round Rock was rated #1 for job growth and one of the best places to live in the US by Money. Why? High-paying jobs and job opportunity growth, plenty of amenities, and a wide array of housing options. We've pulled together our list of favorite things to do in Round Rock.
Axe Throwing
When you're looking for a little adventure, turn to Top Notch Axe Throwing. Top Notch opened in Round Rock in late 2021. And wow, locals are excited that we did! Within six months of opening, Top Notch has proudly hosted birthday parties, bachelor/bachelorette parties, company outings, engagement proposals, and so much more. In addition to axe throwing, our venue is BYOB or alcohol is available on site, plus there are ninja stars and throwing cards for extra throwing fun. Book Now.
Grab Coffee and Donuts
Donuts are a long-standing tradition in Round Rock. Since 1926 people from near and far have been flocking to Round Rock Donuts. The yeast-risen donuts melt in your mouth and are freshest at 4 am. Although we don't wake up that early, we sure have enjoyed our fair share of donuts along with everyone else in line, and there's always a line. But don't worry, you'll move along quickly and have your hand-rolled donut in no time.
What's better than a donut? Coffee and a donut. Opening at 5 am daily and around since the early '90s; Dutch Bros Coffee is more than a coffee shop. We love coffee from Dutch Bros Coffee because they're all about relationships, and they have heart. Seriously, everyone that works there is delightful and friendly. Their support of ALS is unbelievably strong, and their ability to build community is inspiring. We love their coffee and the Dutch Brother's Blue Rebel™ energy drink.
Eat Local
Round Rock has a wide array of options for eating out or grabbing something to go. Nancy's Sky Garden is one of the healthiest places to eat, and it's also located only 5 minutes from Top Notch Axe Throwing. You could grab your favorite poke bowl or Buddha bowl and head over to throw axes.
Located just around the corner is Pie Jacked. Known for their gluten-free offerings, they create the best pie based on tradition. They are 5th generation pie makers, and you can taste it in every bite of yummy sweetness.
Finally, we love the variety of beer options at Round Rock Brass Tap. There are over 150 craft beers. You can ask anyone working there about beer, and they will be highly knowledgeable and give you ideas for your next pint. Plus, there are regular live entertainment options.
Outside Sport Options
Old Settlers Park is the city's crown jewel of public parks. It's a lush green home for BBQs, picnics, and so many sporting activities ranging from soccer to cricket to tennis and volleyball. This park is also the home to Sports Capital of Texas tournaments held once a month. This is a big deal! These tournaments are put out to bid by the Convention and Visitor's Bureau and often host more than 100 teams at a time. Cross county meets, soccer games, and more are held in this perfect park setting. If you have downtime between games, visit us at Top Notch Axe Throwing for some fun! We're a short 10-minute drive away from the park.
Top Things to Do in Round Rock
Even though we (Top Notch Axe Throwing) might be new to town, we're sure happy we're here. The Round Rock community is absolutely terrific, and we're so grateful for all the support and new friends that we've made; thank you!