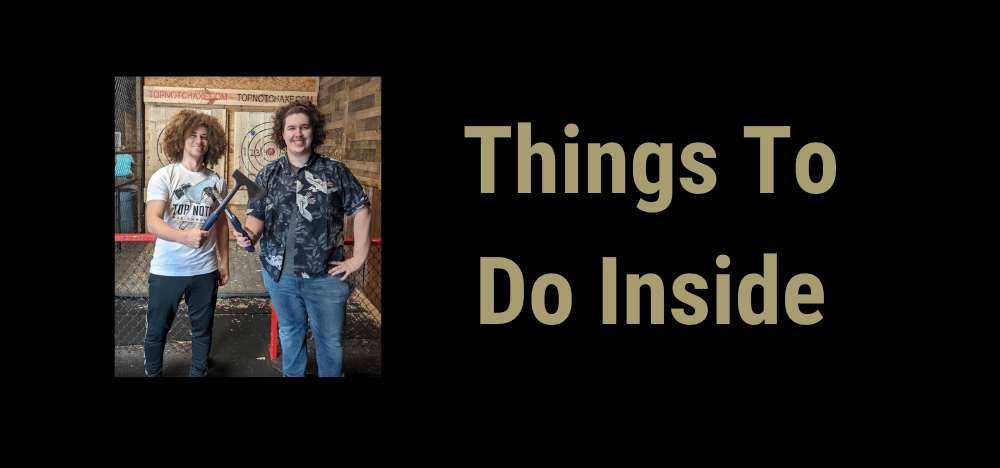 Things To Do Inside
August 29, 2023, by:
Top Notch Axe Throwing
It's hot outside. It's cold outside. It's raining outside. Whatever the weather is or is forecasted to do, it's always pleasant to experience indoor fun activities. Here's a list of our favorite things to do inside:
#1 Things To Do Inside - Axe Throwing
It's always climate-controlled at Top Notch Axe Throwing. Our locations offer cooling AC when it's hot and lovely heating when it's cold outside. We're set up for inside fun year-round. You can depend on us for a fun time with friends any time of year.
#2 Brewery Tours
Who doesn't love a good brewery tour enjoyed with a beer in hand? The Budweiser Brewery Experience is a must-see when visiting St. Louis. Check the schedule before your visit, and you might get to tour with a Beermaster or hang out with our favorite horses via the Clydesdale VIP Experience. In Round Rock, we enjoy a good beer from the flavor-forward folks at Independence Brewery.
#3 Escape Rooms
Want to get your heart pumping? Choose your theme and compete to escape a room. We recommend Mastermind Room Escape in St. Charles and St. Louis.
#4 Indoor Sports
St. Louis is known for both indoor and outdoor sports. The Dome at America's Center hosts all types of indoor sports. You can often catch national and international level indoor sports at the Dome. In Round Rock, all you have to do to enjoy indoor sports is swing by the Round Rock Sports Center, and you'll have plenty of indoor sports options.
Enjoy yourself inside any time of year. Don't forget to throw axes with us at Top Notch in downtown STL, St. Charles, or Round Rock. Book Now!