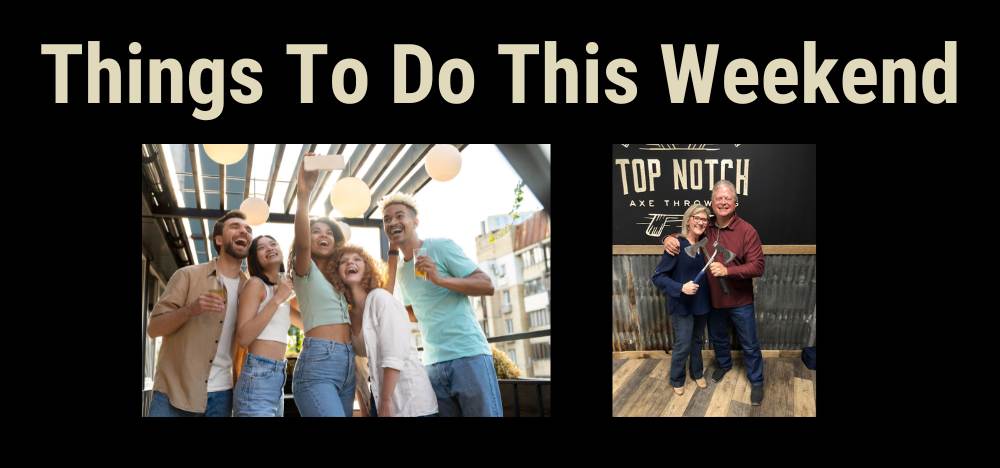 Things To Do This Weekend
April 20, 2023, by:
Top Notch Axe Throwing
Looking for something to do this weekend? Top Notch Axe Throwing is here to help. Of course, we would love to see you throwing axes at one of our locations. We also enjoy assisting people in finding things to do around town on any given weekend. Since we have locations in two states, we've broken down our list into MO and TX for ease of use.
Things To Do This Weekend St. Louis, MO Area
St. Louis is a terrific family-friendly area with things to do, ranging from professional sporting events to museums to pop-up events. St. Louis Magazine and Explore St. Louis collect and share community events attracting small groups and national headliners.
St. Louis Magazine Community Calendar
Explore St. Louis Events Calendar
Outdoor Adventures for the Weekend Near St. Louis
The city and St. Charles are terrific urban places to hang out and have fun, but what about all the surrounding natural beauty? We personally enjoy all the natural adventures within a 2-hour drive of St. Louis. Here are a couple of top-rated outdoor adventures nearby:
Stap in your bike and go to the Katy Trail. In under an hour, you'll be able to explore the 264-mile bike trail and all the wineries and parks along the way. If you're genuinely looking for an adventure, bring your camping gear, stay a night or two along the trail, and engulf yourself in nature.
If you can tackle a little longer drive (1.5 hrs), head to Elephant Rocks State Park. The giant granite boulders are something to behold and super fun to climb on and explore. Please pack a lunch and enjoy it at nearby picnic tables.
Things To Do This Weekend Round Rock, TX Area
Downtown Round Rock shares all events on its website, including pop-up art events and the "everyone must attend" events like Fourth of July, etc. Most events are very family-friends, and because everyone is so friendly, you're sure to make friends while you're out and about. We always look forward to Music on Main. Also, don't forget to check Eventbrite for events. Round Rock has many community groups that self-organize events. There's something for everyone most of the year in Round Rock published on Eventbrite.
Outdoor Adventures for the Weekend Near Round Rock
The Round Rock area is known for its natural pools; let's face it, it's hot most of the year here. In about an hour, you can check out Krause Springs in Spicewood. The 115-acre property is listed on the National Registry of Historical Sites and has been privately owned by the Krause Family for over 50 years. There are 32 springs on the property, an artificial pool, and a natural pool that flows into Lake Travis. An adult day pass is $10, and a day pass for children 11 and under is $6. There is also camping for a fee.
Around 30 minutes from Round Rock, you can visit McKinney Falls State Park. The park offers 726 acres of hiking and cycling trails, playgrounds, picnic areas, a campground, and Onion Creek for wading and rock skipping. It's beautiful and not to be missed.
About Top Notch Axe Throwing
Top Notch Axe Throwing is rated #1 by customers on Google and TripAdvisor. There are three Top Notch Axe Throwing venues, including downtown St. Louis, St. Charles, MO, plus Round Rock, TX. Book axe throwing in MO or TX now. Don't forget you can BYOB!