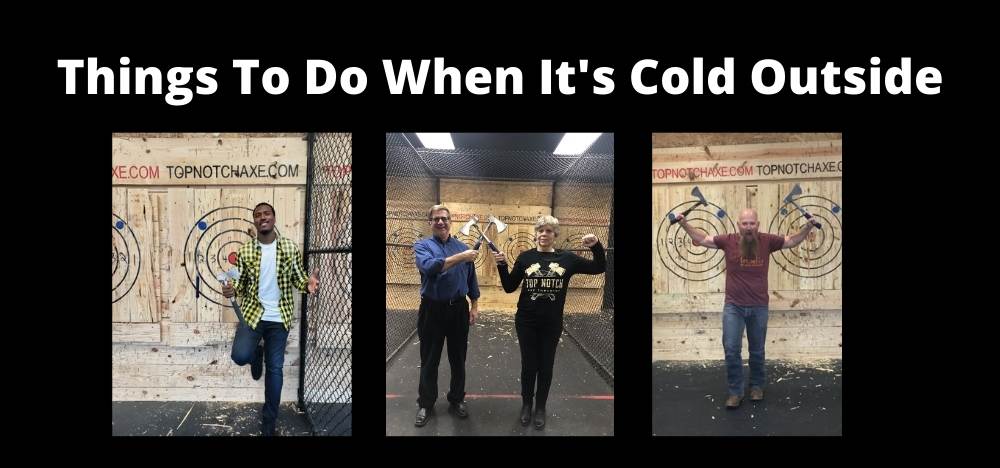 Things To Do When It's Cold Outside
February 17, 2021, by:
Top Notch Axe Throwing
Winter in St. Louis can get very cold. So cold that it can be difficult to spend extended amounts of time outside. But that doesn't stop adventurous people from having a ton of fun in the St. Louis area.
We happen to love winter at Top Notch Axe Throwing. In addition to throwing axes year-round, we enjoy a handful of other activities when it's super cold outside. Here's our list:
#1 When It's Cold Outside, Throw Axes Inside
When it's cold outside, we throw axes inside at Top Notch Axe Throwing. We also throw ninja stars and throwing cards. Believe us; it's super fun and the perfect winter activity.
#2 Go Ice Fishing
Winter is the only time you can go ice fishing. It's best to go ice fishing in the early hours, just after dawn. You will find bluegill, crappies, and even wide-mouth bass in our area.  Most people fish in privately owned ponds, but there are many public spots too. The City of St. Louis and local nearby counties have lakes where anyone can go ice fishing. Be sure to check local regulations and ice depths before drilling your hole.
#3 Dog Sledding
We know, dog sledding in Missouri? Most people think of much colder climates when they hear dog sledding, but St. Louis has an urban dog sledding club. The club meets year-round, so the dogs stay in shape, but winter is really the best time to go dog sledding.
#4 Go Tubing, Sledding, or Make a Snow Angel
We only get about 16 inches of snow a year in the St. Louis area, but you can make the most of it by playing in the snow. Even big kids need to play in the snow. We love sliding down a good steep hill on a tube. FYI - That tube you use in the river in the summer usually works as a good snow tube.
#5 Attend a Hockey Game
We love the Blues! St. Louis is nationally known as a sports town, and one of our favorite sports is ice hockey. Fun Fact - We've thrown axes with most of the Blues players and staff at Top Notch!
Are you ready to throw axes? We recommend making a reservation at Top Notch Axe throwing.