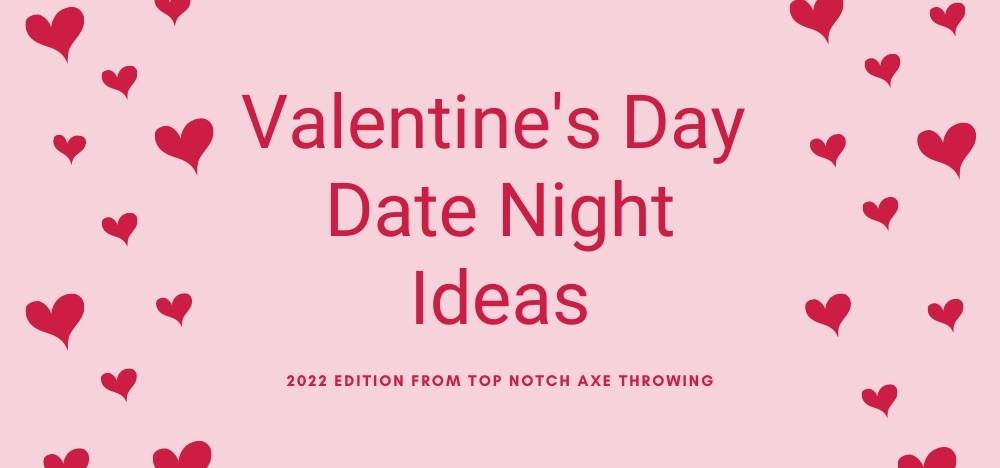 Valentine's Day Date Night Ideas
January 17, 2022, by:
Top Notch Axe Throwing
Valentine's Day is the perfect day to try something new or tackle an adventure. Choosing a suitable date night activity is easy with our handy ideas list. We've focused on a date night in the downtown St. Louis area so you can include Top Notch Axe Throwing this year. We have two other nearby locations in St. Charles and Ballwin if that's more appealing. Finally, if you're in the Round Rock, TX, area, try out our newest location.
Dinner & Drink On The Town
Broadway Oyster Bar is less than 1 mile from Top Notch. Enjoy the St. Louis Riverfront, including the Arch as you walk from one to the other. Did you know the Arch is one of the most popular spots to get engaged to the entire Mid-West Region?
Prefer a rooftop bar? Three Sixty St. Louis sit atop the Hilton Hotel. This bar is less than a 10-minute walk from Top Notch, and you can see most of St. Louis from "on high" while you enjoy terrific food.
Riverfront District
Stroll through the historic area known as Laclede's Landing. It's a Riverfront District in downtown St. Louis. A short distance from Top Notch's downtown location, this area of town is visited by locals and tourists alike. So you might meet someone from out of town, but you will more than likely meet someone that lives around the corner. You can eat and enjoy live music within the nine-block area. Walk around and choose from Mexican, Italian or Korean food. You can even stay the night.
Walkable Unique Experiences
In keeping with the theme that you're feeling like an adventure...what about a 60's theme bar? Just a few short blocks from Top Notch is Eero's Penthouse. It's a little glam mixed with really excellent drinks. Eero Saarinen designed the Gateway Arch, and you can see his work as you drink and eat. You can get a punchbowl of Pisco Sour to share with friends if you're on a group date or enjoy a Moscow Mule. Either way, this is an experience unique to St. Louis.
What about a downtown walking wine tour? Bar tours are big in STL, but wine tours are quickly catching on, and we think Valentine's Day is the perfect time for a wine tour. A dozen wine bars and cellars less than a mile from Top Notch downtown. Check out Trust, Bridge Tap House and Wine Bar, and Blonde's Coffee and Wine Bar for inspiration.
About Top Notch Axe Throwing
Top Notch Axe Throwing is rated #1 by customers on Google and Tripadvisor. There are four Top Notch axe throwing venues, including downtown St. Louis, St. Charles, Ballwin, MO, plus Round Rock, TX. We host small groups of friends, families, and visitors. Plus, we have a corporate team building option for large groups, complete with catering at our MO locations. Book axe throwing in MO or TX now.