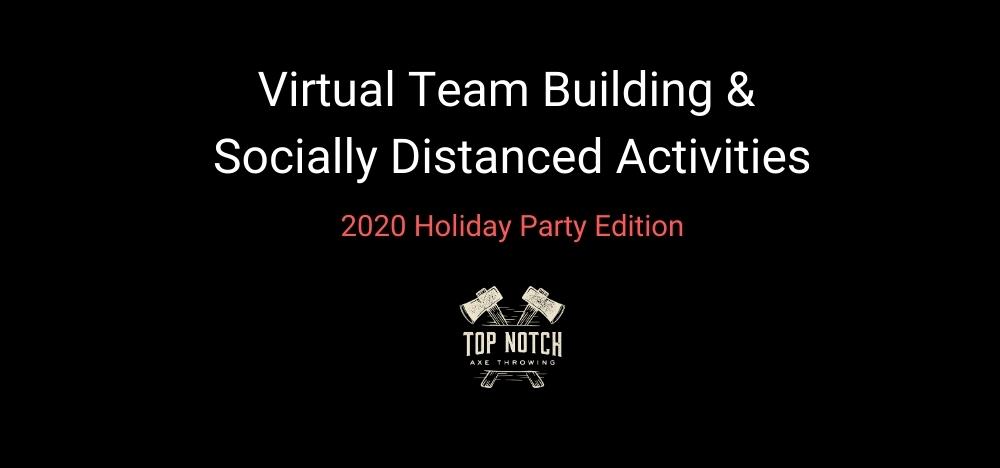 Virtual Team Building & Socially Distanced Activities – 2020 Holiday Party Edition
October 28, 2020, by:
Top Notch Axe Throwing
Virtual team building and socially distanced activities are on trend this 2020 holiday season. Things look a little different for everyone this year due to COVID-19, so we've pulled together our thoughts and ideas for you to make the most of the end of 2020.
Virtual Team Bonding
Virtual team bonding is currently a trending topic because people are trying to figure out how to keep productivity up. Most companies are opting for an in-person holiday party this year because seeing everyone is what people are looking forward to after months of closures. Imagine the boost you get when you see your favorite co-worker!
Virtual team bonding can mean hosting an online event. Something like a wine party, where each employee is sent a bottle of wine prior to everyone signing on at the same time to Zoom. But it's not the same as seeing everyone in person.
Virtual Team Building & Social Distanced Activities
This is the year of virtual meetings and social distancing. But don't let the need for social distancing stop you from having a terrific team building event or holiday party. Finding a spot where everyone will be comfortable and have fun can be difficult. We're made it easier by sharing a few ideas below.
Virtual team building and social distanced activities include:
Axe Throwing - Of course, Top Notch Axe Throwing recommends this one. But we also recommend...
Escape Room - Mastermind Room Escape offers private bookings at both their St. Charles and St. Lous locations. Their downtown St. Louis location is in the same building as Top Notch, so you could throw axes and play an escape room.
Remote Fitness Challenge - Choose a time period like 30 days. Issue the challenge. Something like, who can do the most push-ups in 2 minutes? Over the 30 day period, everyone works as hard as possible to do as many push-ups as possible. Let people share how they're doing at meetings along the way. On day 30 of the challenge, ask everyone to report how many push-ups they can do. Whoever has the highest number can proudly show everyone their skills. For everyone else, they can report how they've improved. A nice addition to this challenge is to have a virtual scoreboard so people can check-in on their co-workers.
Virtual Games - Online chess tournament, anyone? Or choose any game that everyone likes to play online.
Scavenger Hunt - It can be fun to come up with a list of not so common things that people might have around the house. Have everyone sign on to a virtual meeting, present the list and see who has what in their house. Vintage Care Bear from the 80's anyone? Spider plant? Local beer can? Whoever has the most items wins the hunt.
About Top Notch Axe Throwing's 2020 Holiday Season
At Top Notch Axe Throwing, we've successfully adapted to COVID-19 by adding increased cleaning procedures and embracing social distancing. For example, our axe handles are squeaky clean. Plus, we keep everyone spread out, so axe throwing can continue during this pandemic.
We are hosting holiday parties this year. Catering is available. So is the option to reserve one entire location, depending on the size of your group. Contact us to reserve your holiday party today.