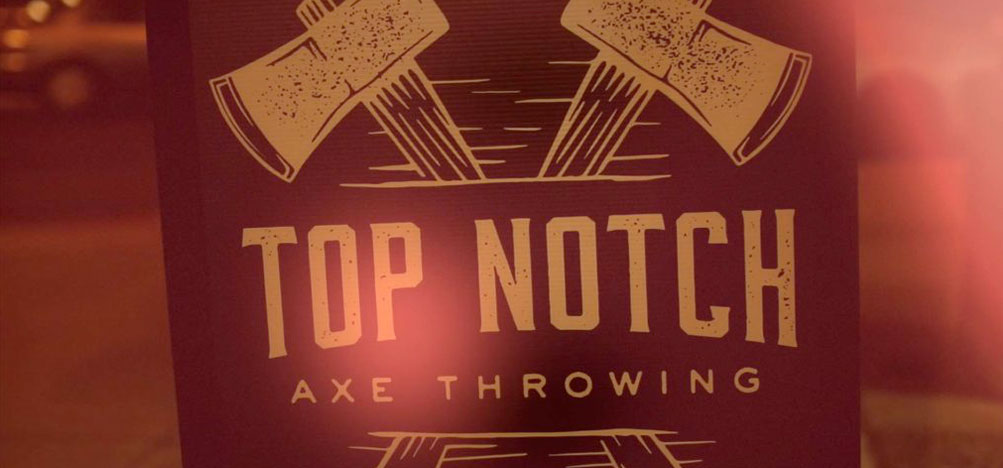 What's Unique about the St. Charles Location?
January 28, 2019, by:
Top Notch Axe Throwing
Top Notch is Coming to St. Charles
We're making progress on our new Top Notch Axe Throwing St. Charles location. We have our permits and we are transforming the space into an axe throwing venue. Similar to the St. Louis location, we will have throwing lanes with protective fencing between the lanes. And, of course, there will be new axes to throw at 18 targets.
Why Axe Throwing in St. Charles?
Honestly, we love St. Charles! It's history dates back 250 years. It's a community of people who like to have fun with friends and family.
But most of all, we live and work here already. Yes, our downtown location is terrific but we have high hopes for St. Charles (too!).
Location with Neighbors
We specifically chose a location where we will have neighbors. Our neighbors, like the Rack House, Exit 6 and Salty's Fresh Mex are local businesses with good food and drinks. Just like our St. Louis location, our St. Charles location will be BYOB (and snacks).
So if you want a beer while throwing axes, you should BYOB or stop by one of our neighbors. It's also fun to throw axes then go out to eat. The Rack House has consistently received local awards for their food and drinks. And let's face it, a neighbor with good food and drinks is ideal for everyone.
What to Expect at the New Location
Our new location will be able to hold around 70 people at one time. We will have 9 lanes and 18 targets. We are hiring additional Axe Masters for St. Charles so everyone can learn to throw if you haven't done so already.
The St. Charles location is in a shopping plaza. Parking is easily accessible and there is plenty of it. It's a great location to throw axes, have a drink, grab a bite to eat and run errands.
You can expect the same high-quality level of service. In other words, our Axe Masters will be there to teach you to throw, answer questions and give you tips or just stay out of your way so you can have a good time.
We will be encouraging team building and group fun at our St. Charles location too. If you are planning a team building event for Q1 of 2019, please call us and we can work something out at our St. Charles location.
Opening Day
We don't have a specific opening day...yet. But we are hoping to open our doors in February. Planning and construction are going very well. We plan to allow online booking once we announce opening day. If you want to be one of the first people to throw at our St. Charles please sign up for our opening day email list. Otherwise, please stay tuned and plan to stop into Top Notch Axe Throwing St. Charles location in early 2019.
Final thought: If you know someone who likes to try new things and you need a present for them, we have gift certificates. These gift vouchers are already on our website and can be used in St. Louis now or in our St. Charles location once it opens.