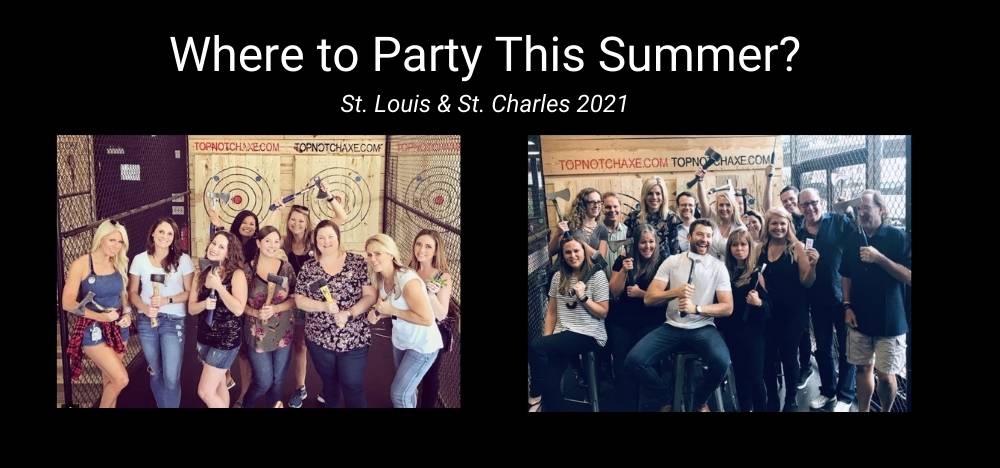 Where to Party This Summer (St. Louis Area Edition)
May 27, 2021, by:
Top Notch Axe Throwing
Everyone is so excited for summer this year, including us. The big question everyone is asking is where do we party this year? Since we have three locations in and around St. Louis, we pulled together our favorite places to celebrate everything from birthdays to graduations to bachelor and bachelorette parties.
Party This Summer At Top Notch Axe Throwing
We're not shy, and we're an awesome party spot. Fun in the form of axe throwing? Check. Catering? Check. BYOB? Check. Plus, our axe master's will help your entire crew have a great time by improving axe throwing skills and teaching you to throw ninja stars. Not to mention it's cool inside when it's hot outside. Stop in our downtown location before or after a game. Plan to meet up with friends in St. Charles. Whatever the case, we're here to meet your party needs. We can host:
Birthday Parties
Bachelor/Bachelorette Parties
Sports Teams
Baby Shower
Corporate Team Building
Any celebration
We do recommend making reservations before your party event. Just use this form and keep an eye out for our email back to you, so it doesn't get stuck in your spam folder.
Locations to Party This Summer in St. Louis
TechArtista Co-Working Space
The TechArtista locations are all co-working spaces with event space available. Depending on the type of space you are looking for, you can choose from an atrium, deck, or gallery. Each has different specifications for capacity and amenities.
Urban Chestnut Brewery and Biergarten
If it's an outdoor beer garden you're looking for, then Urban Chestnut's midtown location might be exactly what you're looking for in an event space. They have two locations, but their downtown location is a short Uber ride away from Top Notch. We recommend having a beer and grabbing a six-pack to bring with you to Top Notch.
Three Sixty
If you're looking for a swanky city rooftop bar, then head over to Three Sixty. Located on top of the Hilton, this rooftop bar is popular before ball games. It's also a short 10-minute walk from Top Notch's downtown location. Choose this location if you want to celebrate while "on top of the world."
Ball Park Village
In May, we heard that the Ball Park Village would be opening this summer; no specific date was given. When we posted this article, not everything was open yet, but everyone was working hard to serve customers ASAP. We hope all eating, and food options will be open again soon because the village has something for everyone. Many people stop in Top Notch before or after they have a bite to eat or drink at the Ball Park Village. Plus, you haven't really had fun in St. Louis until you've seen a game and hung out in the Ball Park Village.
Main Street St. Charles
The main street in St. Charles has a historic feel with modern shops, cafes, restaurants, and family activities. Depending on what type of party you want to have, you can probably find a venue or meet up with friends and have a good time as you walk around. We like the patio at Bello Vino Wine Bar & Tapas for parties.
Where to Party This Summer
The St. Louis area has so many options for hosting a party. At Top Notch Axe Throwing, we're honored to host parties and celebrations of every kind. Are you interested in partying with us? Contact us to schedule a party or choose your location and book now.