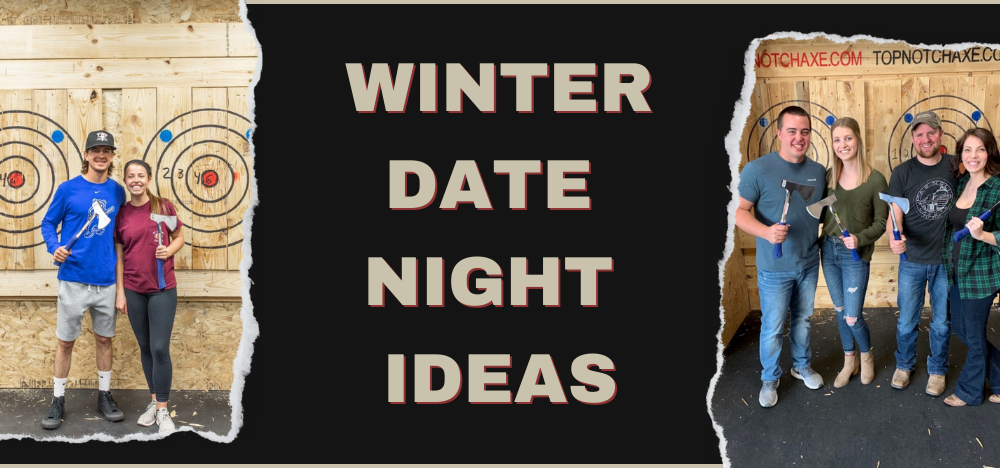 Winter Date Night Ideas
January 31, 2023, by:
Top Notch Axe Throwing
Winter date night ideas in St. Louis and St. Charles range from sporting events to museums to more. You don't have to spend a lot of money but you can if you so please. Whatever your budget, date night should really be driven by what the two of you want to do together. Keep focused on the outcome of connecting as human beings and not matter the activity you chose; you'll have a successful night.
Neon Museum of St. Louis
The Neon Museum of St. Louis is the hot new place to explore and hang out. You'll see contemporary neon that will expand your mind along side historical neon signs that will make you smile. Grab a sip at the cafe bar and engage in conversation with the artistic people drawn inside.
Historical Walk of the Main Street of St. Charles
St. Charles is lovely on foot. Main Street is listed on the National Register of Historic Places. There are over 150 beautiful buildings listed on this St. Charles walking tour.
Make a Candle
Melt together as a couple and make a signature scented candle at The Candle Fusion Studio. Choose from 100+ scents. You get to walk out the door with a new soy candle created by you as a couple.
Fox Theater
Ready for a performance in one of the grandest spaces in the nation? The Fabulous Fox Theatre presents a variety of performances. National performing acts often give multiple performances over many days. Local talent provides fine performances as well. There really is a performance for everyone at the Fox.
St. Louis Blues
We are a sports town, and that's why many people live here, but the Blues are a little special. There's nothing like going to a Blues game as a local fan. A date night game is not to be missed by any sport-loving couple.
Axe Throwing
Top Notch is consistently recognized as the perfect date night activity. We've been highlighted a few times in STL Magazine. It's physical and somewhat adventurous, yet, you can talk to each other and your friends. Most people like throwing axes in groups, so there's more time between throws to talk to each other. We also welcome couples.
About Top Notch Axe Throwing
Top Notch Axe Throwing is rated #1 by customers on Google and TripAdvisor. There are four Top Notch Axe Throwing venues, including downtown St. Louis, St. Charles, Ballwin, MO, plus Round Rock, TX. We regularly host parties. Book axe throwing in MO or TX now. Don't forget you can BYOB!