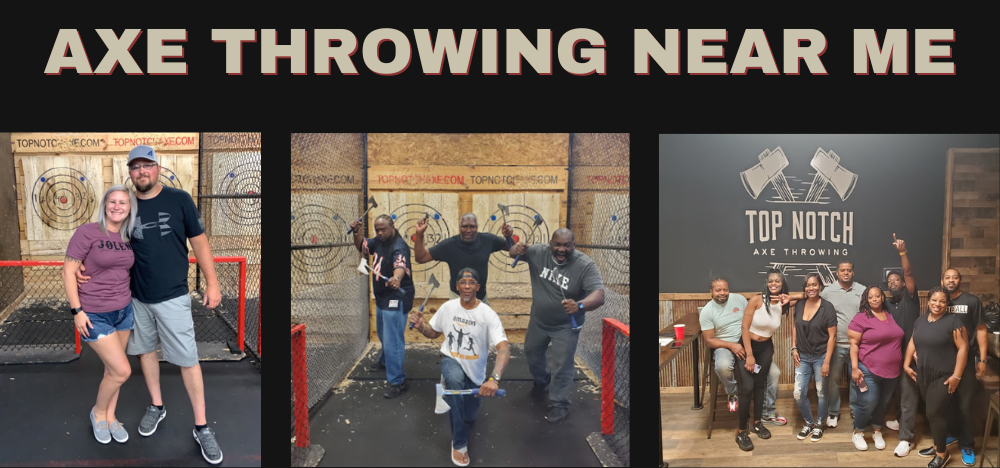 Axe Throwing Near Me
July 21, 2022, by:
Top Notch Axe Throwing
So you're looking for axe throwing? We've got you covered. So many people are asking Alexa and Google and seeking things to do near them that the most popular searches for axe throwing look like this:
Alexa, where's axe throwing near me?
Alexa, what's the best axe throwing venue in St. Louis?
Alexa, where should I throw axes in Round Rock?
Okay Google, how do I throw axes near me?
Okay Google, where can I throw axes in St. Charles?
Where can my company throw axes near me in Ballwin?
Where's an axe throwing venue?
Axe throwing is so popular that many people travel around the county looking for the best place to throw axes "near me," and we understand that axe throwing is exciting and fun, especially with friends. So, we've rounded up four locations for you to throw axes in two different states.
Axe Throwing Near Me in St. Louis
St. Louis is the first location of (now) four locations for Top Notch Axe Throwing. Top Notch is a family-owned and operated company. No templates or weird company rules to follow here. Just good old family fun. Top Notch was the first and is the only downtown St. Louis axe throwing venue. You can catch the owner here; he lives in the area and often throws axes with his family and friends. He's a huge sports fan, so if it's hockey or baseball season, he'll be the one sporting the Cards gear or in head-to-toe Blues.
This axe throwing venue is popular with downtown residents, employees that work downtown, and visitors. Over the years, all the local businesses with HQs nearby have stopped in to throw axes, and a few celebrities have stopped by too! This is the venue for you if you're looking for a terrific downtown St. Louis axe throwing business.
Axe Throwing in St. Charles
This axe throwing location is perfect for anyone living near St. Louis but prefers a shorter drive. St. Charles is known for its dense suburban feel along with its historic downtown. It's safe and quiet but with many things to do nearby. Axe throwing is one of many activities to partake of in St. Charles. When you are sitting at home thinking, "What activity is nearby for me that's fun and exciting?" think about Top Notch Axe Throwing.
Axe Throwing Near Me in Round Rock/Austin
Wait, how are we in Texas? Remember when we said Top Notch Axe Throwing is a family-owned and operated business? One of the brothers moved to Round Rock and thought it would be the perfect place to open an axe throwing business. He was right. So many people search for "axe throwing near me" in the Austin area that even competitors stop in to throw axes.
Axe Throwing in Ballwin
The Top Notch Ballwin location is open to everyone, but it's most popular with team building groups. Why? That's easy, there are many businesses nearby, and everyone loves axe throwing making it an ideal team building activity. Depending on your group's needs, we'll open just for you, so feel free to contact us about your requirements. What if you want to schedule team building at a different location? We offer it at all our locations, and it's just the most popular activity at our Ballwin location.
About Top Notch Axe Throwing
Top Notch Axe Throwing is rated #1 by customers on Google and Tripadvisor. There are four Top Notch Axe Throwing venues, including downtown St. Louis, St. Charles, Ballwin, MO, plus Round Rock, TX. We host small groups of friends, families, and visitors. Plus, we have a corporate team building option for large groups, complete with catering at our MO locations. Book axe throwing in MO or TX now.