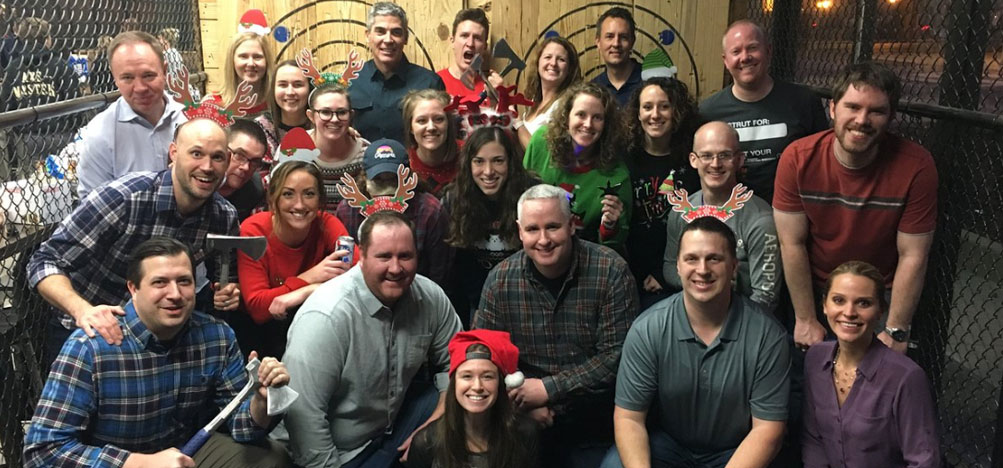 Axeual Party Fun at Top Notch Axe Throwing
December 18, 2018, by:
Top Notch Axe Throwing
Top Notch is Rated #1 for Fun & Games in St. Louis on TripAdvisor
Since our humble opening in April 2018 we have welcomed many groups through our doors. Everyone loves a party, right? We have been lucky enough to be rated #1 for Fun & Games in St. Louis on TripAdvisor (THANK YOU!).
It's been through these overwhelmingly positive online reviews and word of mouth recommendations that we've experienced success. So much success that we plan to open a new axe throwing location in St. Charles in early 2019. But that's a whole other blog post.
First, let's share why axe throwing at Top Notch is axeual party fun in St. Louis.
Party Fun in St. Louis for All Ages
Anyone over the age of 8 can throw axes at Top Notch. This makes axe throwing a great party activity for families who get different generations together for some fun. Sure enough, we see plenty of families.
We also host bachelor and bachelorette parties, date nights, birthday parties, corporate team building groups, conference attendees, sports groups and we've been known to host superstar musicians.
And just in case it's important, we are conveniently located on the first floor of the building. No stairs or ramps, just walk or wheel or scoot right in. Plus, our instructors, aka Axe Masters, are used to working with everyone and anyone. And really, what's better than an axe-throwing party?
Nothing, unless you're part of an axe-throwing birthday party. The birthday person gets a free Top Notch t-shirt (within 5 days of your birthday). Any parties involving people under the age of 18 need to have adults at the axe throwing lane.
Unique Experience
Although axe throwing has been around for a few years in the U.S., it's still new to most people. And if it isn't new to a member of your party, it's an activity that takes time to master, so it's still fun the 3rd or 30th time you do it.
At Top Notch we have an ideal space for parties. We can host several smaller groups or one large group of about 75 people. No matter the group size, it's always a unique experience.
We also host work parties. Corporate team building groups are a regular occurrence at Top Notch because axe throwing is so unique and stress relieving.
During weekday evenings, most of our groups are super casual and laid back. Weekday evenings and weekends are when we see family and friends meeting up to share a unique axe throwing experience.
Convenient Location
We're proudly located in downtown St. Louis near the Gateway Arch. Downtown has so much to offer and we're near everything.
You can walk here from most downtown hotels and we're surrounded by the Busch Stadium and several restaurants and bars. So whether you're taking in a Cardinals Game, attending an event or going to the casino, we're conveniently located near everything in downtown St. Louis.
Catering or BYOB Options Make a Great Party
Top Notch makes it easy to create an entire event with catering and BYOB options. Our catering menu has a variety of options to suit the needs of large groups. As a BYOB facility, you can choose exactly what beverages suit your group. It even saves some money when hosting a party. We also have water and soda for sale inside.
Babs B said, "This place is great!!!! I highly recommend it if you want to get out of your comfort zone and do something different. We went on a Sunday afternoon when it wasn't busy, so the employees were very hands-on and helpful. They definitely watch out for you, which is good since you're throwing axes and stars. They give you ideas for different games. They have water on hand in case you get thirsty, which you will. This is a great place to spend some time. I highly recommend it, and I can't wait to go back!"
Are you ready to host an axe-throwing party? With our convenient location and casual environment, you and everyone in your party are sure to have fun. It's Party Time! -  book your axe-throwing party today.