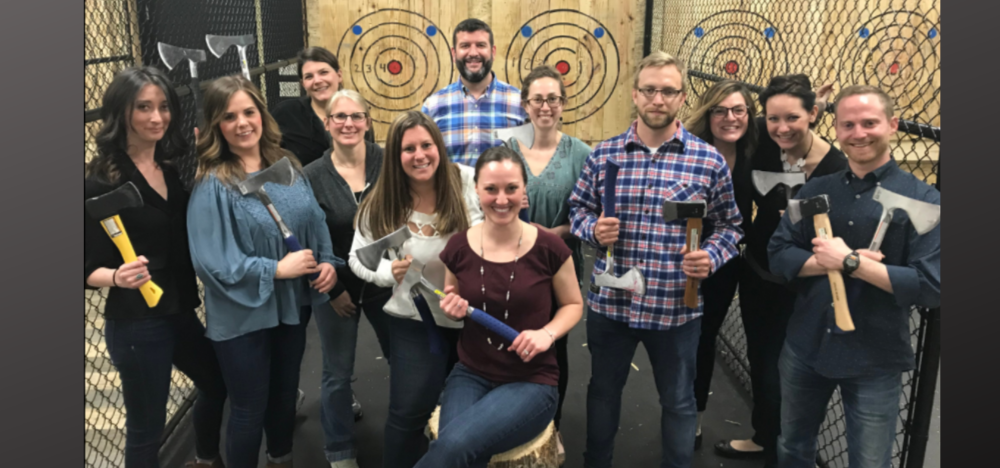 How to Host an Axe Throwing Party
August 15, 2019, by:
Top Notch Axe Throwing
Are you looking for something fun to do with your co-workers and friends? With three locations in the St. Louis area, Top Notch Axe Throwing is the best place to throw your next company party, birthday party or celebrate any occasion.
In fact, we're rated #1 for Fun Activities & Games on TripAdvisor in St. Louis with 3 locations!
Give us a call (314-885-1242) or contact us online to check availability for your preferred date and time. Parties are usually 1.5 - 2 hours long. We typically respond within 24 hours of being contacted.
What You Need to Know
Here's what you need to know in order to host an axe throwing party:
Make a Reservation

- Please give us time to prepare for your party. We have a team of people available to help you.

Pricing

- Pricing includes the ability for you to bring your own food and drinks. 

It's All Yours

- You can reserve an entire Top Notch location for an exclusive event. Talk to us about the details of your event to see if you qualify.

100+ People Welcome

- We can handle over 100 people at one time at any of our locations.

BYOB or Catering

- Catering is available.

We offer breakfast food, BBQ, wings, plenty of apps, boxed lunches, Italian food and even a buffet. Or you can BYOB snacks, cupcakes and drinks.

It's Safe

- Safety is important to us. Kids 8+ are able to throw axes with appropriate adult supervision. We also welcome all ages. Just be sure you can handle lifting several pounds over your head and are able to throw those pounds in a forward motion.

Groups Large and Small

- We consider groups of 24+ people to be large groups. We recommend having a group of at least 6 people if you aim to have your own lane. Although we can promise it, we place 6 - 12 people per lane depending on occupancy.

Celebrations Welcome

- Host your Company Party, Birthday Party, Bachelor/Bachelorette, Homecoming, Graduation or whatever type of party you want at Top Notch. 
What's Included?
When you make a party reservation, you'll have a dedicated Axe Master. This means you'll have all the help you need on-site to set-up, learn to throw axes, have fun and tear down. Depending on the size of your party, you'll have a dedicated axe throwing lane, a set of lanes or the entire space.
We have extra tables on hand to place food and drinks. This is especially handy when you order through Top Notch. There is a minimum catering order of $350 in addition to drink costs. We offer breakfast food, BBQ, wings, plenty of apps, boxed lunches, Italian food and even a buffet. Here's our catering menu.
Finally, you'll have access to throwing cards and ninja stars in addition to our regular axes.
Did you know?
Axe throwing is a terrific way to celebrate your birthday. We've made it easy for you to book an axe-throwing birthday party online. Birthday Policy: If it's your birthday, you can throw axes at Top Notch for free with a group reservation of 6+ people within 4 days of your birthday. In fact, for every 6 people at your party, the 7th person is free (for example, pay for 18 people and 3 people are free for a total of 21 party members). You must show your state-issued ID (or equivalent) with your birthday on it when you arrive at Top Notch. The group of 6 or more people must book online ahead of time and note it's for a birthday party. Other discounts cannot be included for birthday parties. Follow these instructions for booking online.
We're Rated #1
Top Notch Axe Throwing is the #1 axe throwing company in the St. Louis Area. Here's what people are saying….
"We had a blast and a bit of a workout-- a hit with everyone in our group aged 23-57! Our Axe Master Greg did a great job showing us the ropes. Threw axes of all sizes plus ninja stars and cards. No one got hurt. Really. I'm sure we'll go again." - Carla F
"The best time ever! I went for my buddies bachelor party for a starting place. It turned out to be one of the funnest places I've ever been too. The staff is awesome!" - Jeff W