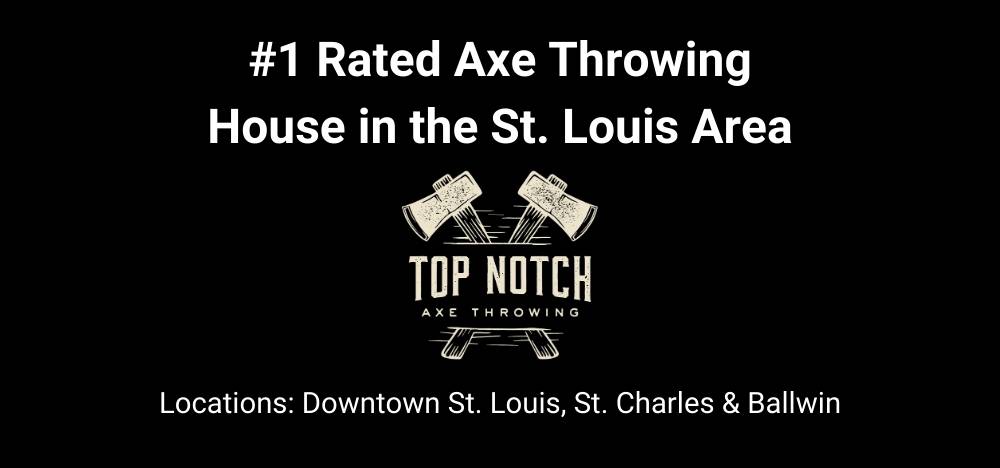 Looking for Axe Throwing Near Me in the St. Louis Area?
June 17, 2020, by:
Top Notch Axe Throwing
It's summertime and everyone is looking for something to do. This spring was unique because we stayed home due to COVID-19 spreading across the nation. With that said, we've been open for a couple of weeks and it's clear everyone is ready to throw axes now. Many people have been calling us to ask, "where can I find axe throwing near me?" to inquire which of our three locations are open. The answer is all three axe throwing locations in the St. Louis area are open.
Book Now, if you please
Our location in St. Charles has been the most popular for families. With Father's Day just around the corner, we've seen plenty of Father's Day reservations. We even have a Father's Day promotion where dad can throw for free.
Father's Day Promo
Book 3 People and Dad Throws for Free
Reservations Recommended
Code: No Code Needed
Simply make reservations online for three people and bring dad with you at your reservation time.
Details: Make reservations for 3 people and bring dad (as the fourth person) for free for Father's Day Weekend 2020. Promo is good for throwing axes at Top Notch June 19 - 21, 2020 only.
Summertime Axe Throwing Near Me
After Father's Day, we plan to keep regular hours so you can have fun all summer long in 2020. In fact, we're continuing to bring out the ninja stars and throwing cards just for you to optimize your fun. We promise axe throwing is one of the most exciting things you can do this summer.
Make a Day of It
Axe throwing at Top Notch is the perfect complement to many other activities offered in our area. In the same building as our downtown location, there is Mastermind Room Escape. It's the #1-rated escape room in the area. Plus, there are plenty of restaurants for food and drinks.
In St. Charles and Ballwin, there are plenty of local parks open for family fun or just enjoying a hike. For those adventure seekers, you could tackle a new hiking trail, grab some drinks (we're BYOB), and cool off while throwing axes indoors.
Axe Throwing in the St. Louis Area
We hope you'll visit a Top Notch location in the St. Louis area whether you're a resident or just visiting. We're easy to find and the #1 customer rated axe throwing venue. We're also family owned and operated!