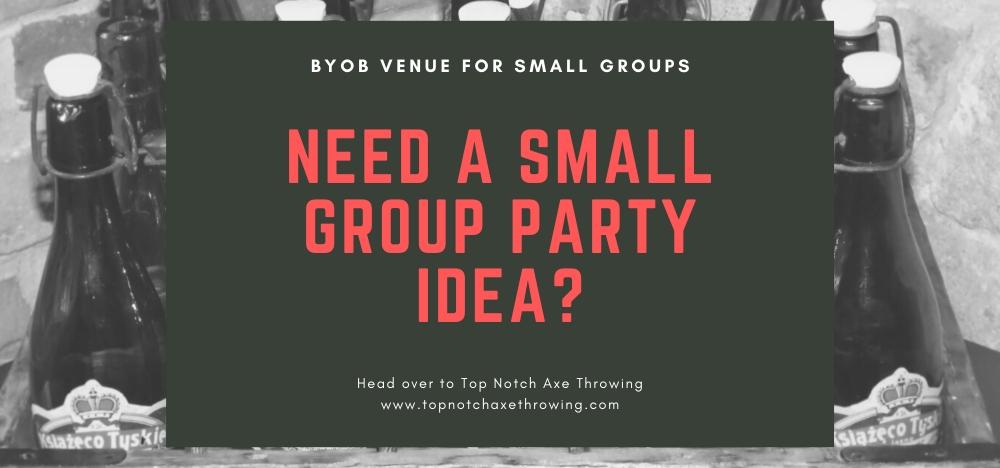 Small Group Party Ideas
July 16, 2020, by:
Top Notch Axe Throwing
Having a small group party to celebrate a special occasion is the ideal time to honor and celebrate someone. At Top Notch Axe Throwing, we host small group parties regularly. Although the focus can range from bachelor/bachelorette party to graduation to birthday to graduation, each party has something in common - a Guest of Honor.
The Guest of Honor Throws Axes For Free at Top Notch*
*At Top Notch, the Guest of Honor for all small groups gets to throw axes for free when 6 or more people book a spot for the party ahead of time.
Reserve your axe throwing party online using the form on our parties page or directly via our book now page. You can book a small group of up to 23 people. Yes, we can host large groups too. Large groups are considered 24 - 125 people.
Please let us know when you book online what type of party you are planning in the comment field. There is no need to book a spot for the person of honor; they can simply show up with the group.
The cost of axe throwing is $35 for 1.5 hours per person. Only people with paid reservations are allowed in Top Notch.
A Unique Venue for Small Group Parties
Top Notch Axe Throwing is a unique party venue for a variety of occasions including:
Birthday (age 8+, adults required with kids)
Bachelorette Parties
Bachelor Parties
Graduation Parties
Small Office Party
Sweet 16 Party
Anniversary Party
Retirement Party
Welcome or Farewell Party
Engagement Party
Divorce Party
Class reunions
Gender Reveal Party
Cast Party (for you theatre and movie-making folks)
What's the Best Theme for a Small Group Party?
Axe throwing! Okay, we're biased, we know.
It can be challenging to pick the right theme for a party. But a party at Top Notch does make a lot of sense. We have three terrific axe throwing venues, including downtown St. Louis, St. Charles, and Ballwin. We keep everything clean and tidy for your group, and our Axe Masters will help you throw to the best of your ability.
Don't forget; we're BYOB. You can bring whatever drinks you think your party guests will enjoy, including a 6 pack of your favorite beer. Snacks are allowed, we request that you keep snacks to your axe throwing lane area. Plus, catering is available, depending on your needs.
Finally, during your party, expect more than axe throwing. We have an arsenal of ninja stars and throwing cards.
Other Small Group Party Ideas
Host a backyard barbeque
Host a game night
Have a cookie swap (or cake swap)
Bring a covered dish to a dinner club night
Plan a wine tasting event
Create your own bar crawl
Have a jewelry making party
Meet at an escape room
Book Your Small Group Axe Throwing Party Today!