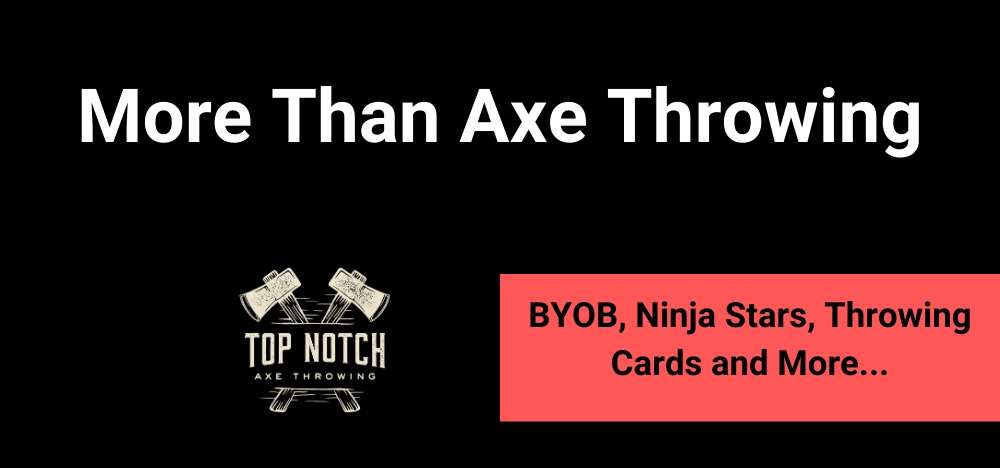 More Than Axe Throwing
March 19, 2020, by:
Top Notch Axe Throwing
Top Notch Axe Throwing is, first and foremost, an axe throwing facility. We're also BYOB and so much more!
We're called Top Notch for a reason, and it's because we have a full range of "extras" beyond axe throwing. Including:
BYOB (Bring Your Own Beer) Policy
Top Notch has a BYOB policy that allows you to pick up for favorite six-pack and meet your friends at Top Notch. We recommend grabbing something from a local brewery and being careful with glass bottles. If you need to bring a small cooler to keep everything cold, that's okay too.
Ninja Stars
What better than throwing axes? Ninja stars. Okay, maybe not better, but ninja stars are fun and give you something interesting to try in addition to axes.
Throwing Cards
Axes, ninja stars and throwing cards, yes, please! At Top Notch, we have a throwing arsenal for your enjoyment.
Birthday Person Throws for Free
Our birthday policy nearly guarantees you are going to have an epic birthday. Whether you're throwing a big birthday party or just gathering with a few friends and family members, we've got your birthday celebration needs covered.
BYOB & BYOF (Bring Your Own Food)
While BYOB is fun. Sometimes you need a snack. Although we don't recommend carrying in a full meal, we do allow snacks and birthday/celebration cakes or cupcakes.