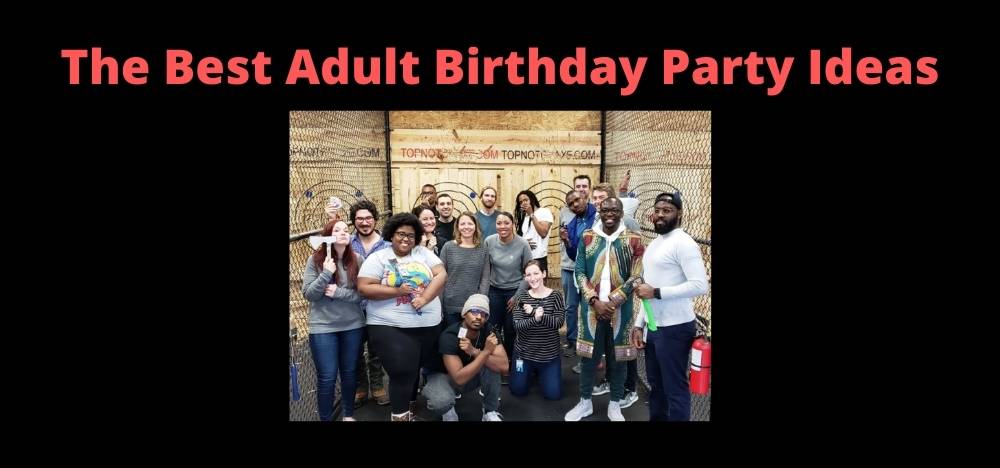 The Best Adult Birthday Party Ideas
August 26, 2020, by:
Top Notch Axe Throwing
Adult birthday parties are fun and easy when you consider our "Best Adult Birthday Party Ideas" below. Adult birthday parties are a terrific time to bring together a group of friends and family to celebrate and honor someone. No matter the age of everyone in attendance, it a good idea to have an activity for everyone to participate in to make the celebration memorable.
The Best Adult Birthday Party Ideas
#1 - Axe Throwing
We love axe throwing for an adult birthday party because it's easy to do, yet it's something most people don't do on a regular basis. Even if some of the people at the party have thrown axes before, they are typically excited to have the opportunity to do so again. Plus, axe throwing is something most adults can easily do because it's not too physically demanding.
Specifically, we recommend throwing axes at Top Notch Axe throwing for your next adult birthday party. Why? There are a few reasons:
It's easy to contact Top Notch and reserve a space for your party. You'll have a throwing lane or lanes reserved just for your party group.
Axe throwing is cost-effective. You can pay for the entire group, or everyone can pay separately. Either way, you'll have an entire 90 minutes of fun at a cost that can't be beaten.
No clean up is necessary. You don't have to clean your house. You don't need decorations. You don't have to clean up any messes. Just show up, and the Top Notch team will help you.
BYOB, you can ask everyone to bring their own favorite adult beverages, or you can bring something for everyone to share. The 'bring your own beer' option typically saves groups money.
Catering is optional. If you want everyone to eat at your party, Top Notch makes it easy for you by making catering optional.
#2 Create Your Own Pub Crawl
If you've never been on a pub crawl, you are missing out. Pub crawls are the ideal way to travel around a city and enjoy a variety of bars.
Make a map of all the bars you're going to visit and give it to each person attending the birthday pub crawl. It's fun to have a t-shirt made for everyone or have everyone wear a similar item like a hat or big shiny beaded necklace. This lets other people at the bars know you are a group.
It's best to plan to visit each bar for 60-90 minutes. Depending on your group's size, it's best to give bar owners a heads up that your group plans to visit around a certain time. This way, you will be sure they are prepared with extra bartenders if needed. Don't forget to plan your walking route from bar to bar accordingly. This will make it easy for the entire group to stay together.
#3 Host a DIY Night
We know this might sound surprising to some people, but we promise it is fun. If you have a group of friends and family that like to keep busy, then this is a great choice for you. Choose small DIY projects that people can take home with them. For example, you can choose the theme of "Ikea hacks." Order everything in advance. At the party put everything together and let people choose what to take home. You or someone you know might go home with a brand new shelf or side table.
Maybe everyone enjoys their backyard. You can make birdhouses or bird feeders together. Maybe everyone enjoys plants. It's easy to buy a bunch of plants and pots to paint. Then everyone goes home with a brand new house plant and a fun memory.
Final Adult Birthday Party Recommendations
Make sure you check-in with the birthday person to make sure they want to attend their own party. We love a good surprise, but if the person of honor hates the activity you have planned, it's not going to be a fun party.
Have a plan for the party, and get other people involved in helping you pull off the fun. For example, if you're going to have t-shirts made, ask your graphic designer friend to design it. Or if you plan to throw axes, purchase Top Notch Axe Throwing t-shirts.
Whatever adult birthday party you choose for your next big celebration, we hope you'll consider visiting us at Top Notch Axe Throwing. Reserve your spot today.