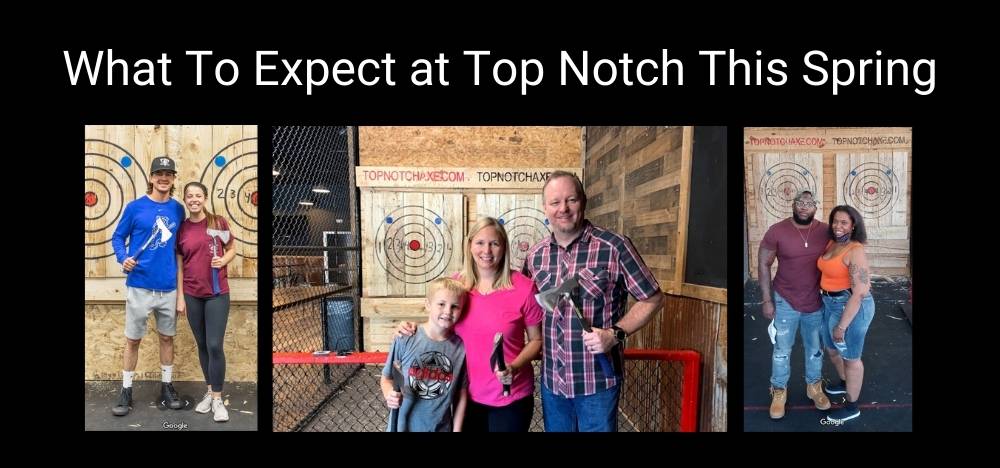 What To Expect at Top Notch Axe Throwing This Spring (2021)
April 14, 2021, by:
Top Notch Axe Throwing
This spring is a terrific time to get out and about and explore everything the St. Louis area has to offer. This spring feels different because it's our first spring since the COVID pandemic lockdowns and closures of 2020. We're anticipating more tourists this year compared to 2020. We're also anticipating more local residents to be out-and-about as sporting events, and live events return to full capacity. At Top Notch, we're adapting to everyone's needs so everyone can enjoy spring and have axe throwing group fun.
Where Can I find Axe Throwing Near Me?
If you're in the St. Louis area, Top Notch Axe Throwing is nearby. We have three locations, and we are the only axe throwing business in downtown St. Louis. We're an easy walk from the convention center. We're across the street from the Gateway Arch National Park. And only a few blocks from Busch Stadium. We also have a location in St. Charles/O'Fallon and one in Ballwin. We're BYOB, so stop by your favorite six-pack shop and pick something up to bring with you.
Top-Rated by Axe Throwers
We're really proud that our customers are so happy throwing axes with us. Our Google reviews capture only a spark of the fun we have here:
"This was such a fun experience. Our guide was super funny and friendly, and he made us feel really comfortable. We definitely will be coming back." - Corlis on Google
"Nice atmosphere and music. I enjoyed throwing the stars the most; I couldn't get the hang of the axes. My hubby was the total opposite excellent with the axes and not the stars. I would definitely recommend this place! Great chill spot for date night. We brought in pizza for our light snack. The staff was friendly and helpful too." - Ericka on Google
"Staff is great. COVID protocols were followed. Great time and a great workout (I'm getting old). This was my second time here, and I will definitely visit again when in town." - Joshua on Google
"I had never gone axe throwing before, but our axe master was super nice and helpful, and our group had a blast! I even managed to stick an axe in the target by the handle. I'll definitely be going again." - Juli on Google
"I've been axe throwing before, we needed a refresher, and he was clear with instructions. I later saw him helping a young girl who wasn't getting the hang of it on her own. When he finished helping her, she was so excited to actually be hitting the target. Also, I love that you can bring your own food & drinks, it makes for a perfect date or family outing! I can't wait to go back. Oh, and they have ninja stars!" - Brenea on Google
Axe Throwing is Group Fun
We serve large groups, small groups, and couples. We recommend making your reservation online in advance, but we accept walk-ins when we have space available. If you plan to throw axes with a large group, make a large group reservation. We recommend reservations Friday - Sunday as we are often at capacity during weekends.
We also host team-building groups and large corporate groups. Depending on the size and needs of your group, contact us to reserve an entire location and have a private event. A catering option is available.
Social Distancing & Masks
We're continuing to follow CDC and local guidelines. These are regularly changing. The City of St. Louis posts the latest news here. Our other locations are outside of the City of St. Louis have regularly followed the CDC guidelines. We will continue to maintain social distancing as long as the CDC guidelines are in place.