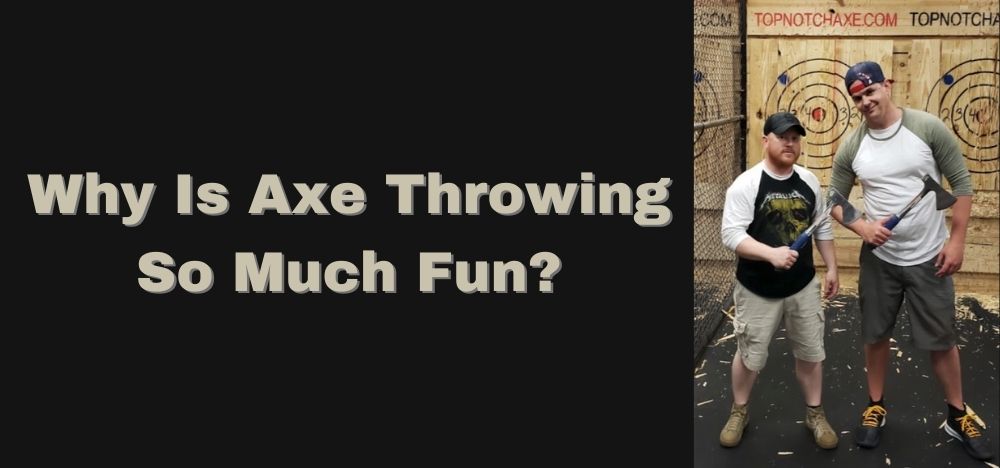 Why Is Axe Throwing Is So Much Fun?
August 24, 2021, by:
Top Notch Axe Throwing
Axe throwing has been growing as a sport for several decades. Within the last 10 years, axe houses, like Top Notch Axe Throwing in St. Louis, have popped up in all major U.S. cities. Plus, many smaller cities and towns now have axe throwing options available. It's an easy-to-learn sport with a top-notch community making it fun for customers and attractive as a small business (for owners).
Physical Activity + Accessibility = Axe Throwing
Let's be clear, axe throwing is not a workout. Most people can handle the physical aspects of raising a small axe above their heads and throwing it toward the target. It doesn't require strength or stamina.
Axe throwing is a sport, but you really need to get into throwing and the related rules for it to be a sport. And even then, it's a skill-based sport. In general, axe throwing is a lite physical activity. Your arms might be slightly sore in the morning after the first time you go axe throwing. If you're doing something with a group of people, like team building, or you're having a small party, axe throwing is one of those activities that you can tackle because everyone in your group will have a good time.
Adrenaline
There are different types of stressors in your life, and adrenaline is increased when you're stressed. Too much adrenaline and we get sweaty, anxious and risk our blood pressure rising too much. But, when you have just the right amount of adrenaline, then you're having fun! Axe throwing can help you burn off your extra adrenaline and feel less anxious. It can also help boost your mood because it's a social activity with minimal pressure.
Flannel
We love a good flannel shirt! It's soft, it's warm, and it's completely fashionable at an axe house. Thanks to those farmers in Wales in the 17th century, we have flannel shirts. Although you can wear whatever you choose to throw axes, flannel shirts are a favorite axe throwing outfit. Bring on those delightful plaid stripes! Yes, we know flannel is a fabric and doesn't have to be plaid, but let's not mess with a good thing by wearing that plaid.
Bonding Time
So many people are sitting in front of a computer screen or on their phone all the time. With axe throwing, you can stop looking at a screen and start to hone your skills at mastering a target while having fun with friends. Because axe throwing is a sport that's relatively easy to learn but difficult to master, it's the perfect bonding experience. Even if you're an expert, you need to practice regularly. It's a terrific bonding experience for everyone involved.
Axe Throwers are Part of a Good Time Community
When you walk into a new place, you decide within the first few seconds if you're going to have a good time or not. You look around to assess if people are already having fun and if there's enough fun for you to stay or leave. Axe throwing attracts people who want to have fun in a controlled and safe way. Thus, the invention of axe throwing lanes!
Sports tend to attract a certain group of people. Axe throwing attracts the fun, laid-back, outdoor people who love to help newbies take their first shot at axe throwing glory. Check out two axe throwing champions hug (around the end of the video at 1:33), Sam Carter and David Cycon, at the 2021 axe throwing championships.
Are you ready to have fun throwing axes? Pick a Top Notch location and we'll see you soon!