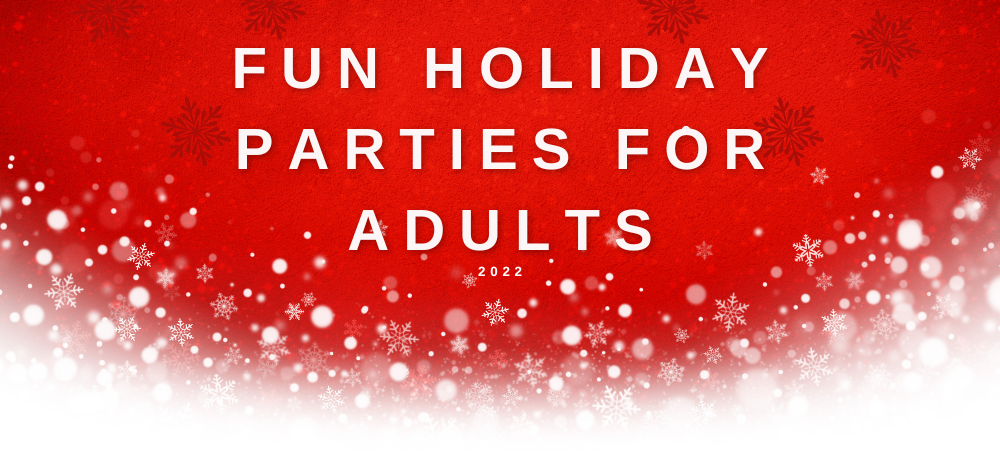 Fun Holiday Parties for Adults
November 9, 2022, by:
Top Notch Axe Throwing
Axe throwing is the perfect fun holiday party for adults. Whether a casual corporate gathering or "just getting together with friends," Top Notch Axe Throwing is the spot to host your party. With four locations and staff with stellar reviews, we're ready to host your adult party.
Types of Fun Holiday Parties for Adults
We host all types of fun holiday parties for adults, including:
corporate gatherings
quarterly celebrations
team building events
Christmas parties
New Year's Eve celebrations
Axe Throwing Adult Holiday Party
Axe throwing is a fun and adventurous activity. Most groups comprise 50% of people who have thrown axes before and 50% who have never tried throwing. That's okay with us; we have Axe Masters to help everyone in your group. For the folks new to axe throwing, we'll provide a quick safety briefing, followed by a demonstration of how to throw. We'll check back to answer questions and offer any improvement tips.
For the folks that have already tried axe throwing, we can help improve throwing techniques. Plus, we provide ninja stars and throwing cards as something extra special to throw.
BYOB Holiday Adult Party
When you choose Top Notch as your location for your holiday party for adults, you can BYOB. Everyone in the group can bring a six-pack, or you're free to bring a cooler for sharing. We recommend sticking with plastic cups and cans, and we ask that you clean up your area. We've compiled a list of our favorite beers and wines. If BYOB isn't your thing, we have catering available for large groups, and our Round Rock location has adult beverages on site. You can reserve a Bar Package via our catering menu at all MO locations.
Hosting Tips for a Fun Holiday Adult Party
Make Reservations
Please get in touch with us to reserve a spot for your party. This will help us ensure plenty of staff members are on hand for your group. We'll also have a specific area for you and your guests. The entire venue can be rented for your party if the group is large enough. Please contact us. We recommend groups under 24 people make reservations online.
Create a Plan for Food
If you want catering, you must place an order in advance. We have breakfast, lunch, and dinner; you can bring a celebration cake or cupcakes. Snacks such as pretzels, nuts, and cookies are allowable as well. We sell non-alcoholic drinks on-site.
Send Invites/Confirm Attendance
Most axe throwing parties are casual and don't require formal invites, but each group is different. Send an invite or at least text everyone and let them know the date and time. Knowing how many people to expect and encouraging everyone to arrive on time is essential. During the holiday season and on weekends, we are often booked solid. Your group members must arrive on time and wrap up within the throwing period. Don't forget to remind everyone!
Enjoy Axe Throwing
Once everyone arrives, there's not too much for you to do other than throw axes. We'll handle the catering and drink orders, and we'll provide axes, resting spots, a safety briefing, and everything your entire group needs to have a good time.
Check out our parties page for more information. It includes FAQs like cost, length of time, etc. Or contact us; we're always happy to answer questions.
About Top Notch Axe Throwing
Top Notch Axe Throwing is rated #1 by customers on Google and TripAdvisor. There are four Top Notch Axe Throwing venues, including downtown St. Louis, St. Charles, Ballwin, MO, plus Round Rock, TX. We regularly host parties. Book axe throwing in MO or TX now. Don't forget you can BYOB!