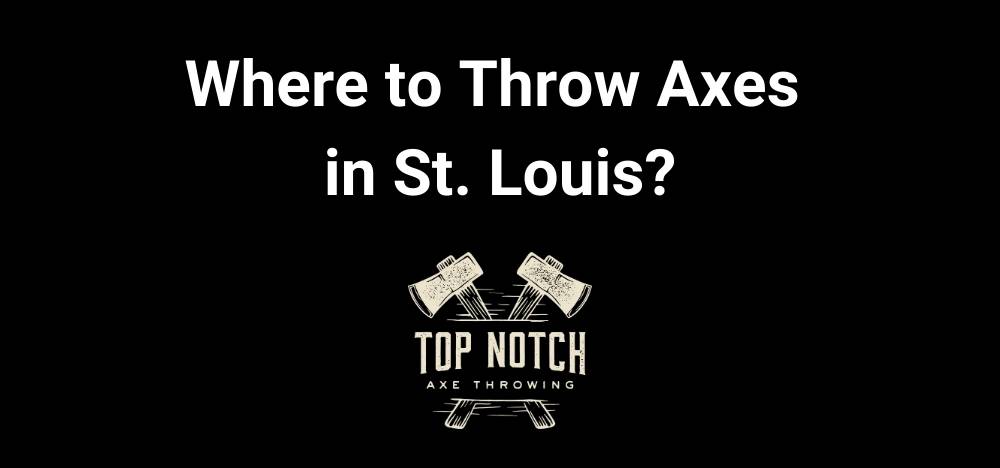 St. Louis Axe Throwing – Where to Throw Axes in St. Louis?
September 11, 2020, by:
Top Notch Axe Throwing
Axe throwing is very popular in the St. Louis area. One of the reasons it is so popular is due to Top Notch Axe Throwing promoting axe throwing. Top Notch has been THE PLACE to throw axes for locals and visitors since it opened 2018. Here's why...
Customer Service and Flexibility
Give the people what they want is a motto we follow at Top Notch. And it's a terrific motto to have because it's made us the best place for St. Louis axe throwing. It's common for customers to befriend our Axe Masters (they are the helpful people giving you your safety briefing and checking you in.)
In addition to throwing axes, we are BYOB. We don't have beers on tap. Instead, we promote bringing your own beer. This gives everyone the flexibility to bring their own favorite six pack with them. Or, if you're part of a group, we have the option to get catering.
Additionally, we open for special hours for larger groups. Just contact us to see what we can do for your group of 25+ people.
We Like to Celebrate St. Louis Axe Throwing
Is it your birthday? Throw axes for free with a group for your birthday. Are you celebrating a life milestone? The guest of honor throws for free with the group. Sure having someone in your group throw for free is a nice perk, but it's the axe throwing and laid back atmosphere that attracts groups to celebrate at Top Notch.
More Than St. Louis Axe Throwing, Our Arsenal
We sure love throwing axes, but sometimes we enjoy throwing ninja stars and throwing cards, too. You can explore our arsenal here.
#1 Fan Reviewed Axe Throwing Business in St. Louis
Sure there are a couple of other places to throw axes in St. Louis, but there are no urban axe houses in downtown St. Louis, and none are as fun or high rated at Top Notch. That's right, Top Notch is the only place to throw axes in downtown St. Louis. This is why everyone stops in when they are downtown, including famous musicians.
Top Notch is rated #1 on Yelp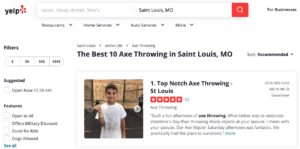 Top Notch is 5 Stars on Google
All Top Notch locations have 4.9 or 5 stars based on over 1,000 Google reviews.